Iran's Army Employs Suicide Drone in Drills
December, 26, 2014 - 16:05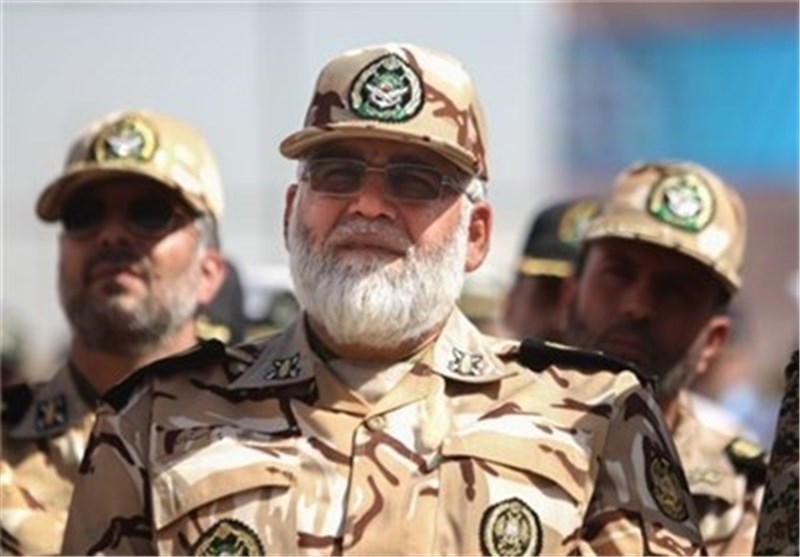 TEHRAN (Tasnim) – The Iranian Army Ground Force has for the first time utilized a type of suicide drone in the military exercise underway in the country's south and southeast, a senior army commander announced.
"The (suicide) drone can be used for hitting the aerial and ground targets and can carry out an attack when it identifies a suspicious target," Commander of the Iranian Army Ground Force Brigadier General Ahmad Reza Pourdastan told reporters on Friday.
He made the comments on the sidelines of large-scale military wargames, now underway across the southeastern and southern Iranian provinces of Sistan and Balouchestan and Hormozgan.
Codenamed "Muhammad Rasulullah" (Muhammad, the messenger of God), the wargames began on Thursday with the participation of different Army units and is expected to run until December 31.
The Ground Force's plan to use suicide drones dates back to September 2013, when Pourdastan said his forces manufactured a new type of advanced suicide drone, dubbed 'Ra'ad 85'.
"This drone is like a mobile bomb, and is capable of destroying fixed and mobile targets," the commander said at the time.
Elsewhere in his comments on Friday, the top army officer said the Ground Force employed Unmanned Aerial Vehicles (UAVs) in the ongoing drill in two phases.
In the first step, the drones played the role of enemy aircraft and in the second phase, the pilotless planes flew as the friendly aircraft, he explained.
He also hailed an extension in the range and operational capabilities of the Ground Force drones.
"These drones can carry heavier payloads compared to the past, and the quality of their optical devices have been also improved," the commander added, describing the drones as the "Ground Force's upper-hand" in the battle field.