France's Security Alert System at Highest Level after Paris Attack
TEHRAN (Tasnim) - French President Francois Hollande said he is calling an emergency Cabinet ministers' meeting on Wednesday at the Elysee Palace following Wednesday's deadly attack at a satirical magazine in Paris.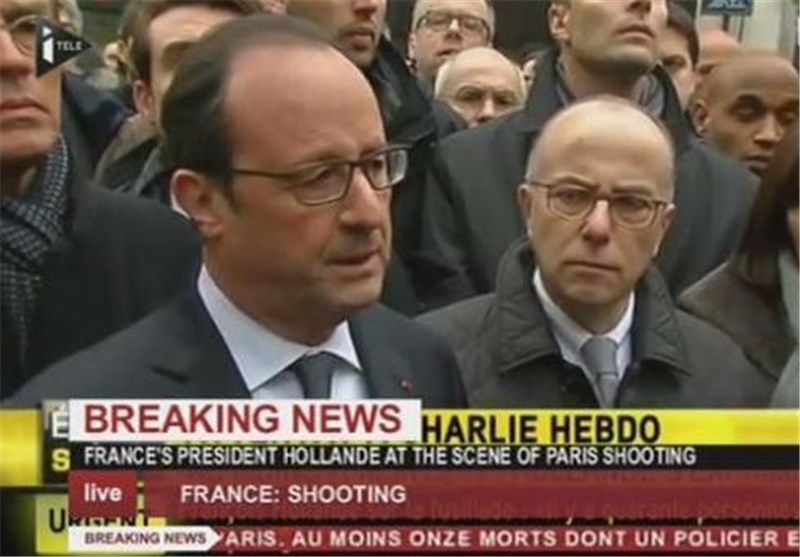 The French government raised the country's security alert system to its highest level Wednesday following a deadly attack at the satirical newspaper Charlie Hebdo in Paris that killed 12 people, according to French media.
French President Francois Hollande and other senior government officials arrived at the scene of the shooting.
At least three police officers were injured, police union spokesman Luc Poignant told BFMTV.
One journalist was among the dead, according to multiple reports.
Two heavily armed men entered the Charlie Hebdo office and opened fire inside the building, Poignant said.
The Paris mayor's office said at least six people were wounded, according to BFMTV.
British Prime Minister David Cameron has reacted to Wednesday's deadly shooting at the satirical newspaper Charlie Hebdo in Paris.
"The murders in Paris are sickening," a post on Cameron's Twitter account reads. "We stand with the French people in the fight against terror and defending the freedom of the press."
The magazine's office was burned 3 years ago in response to its publication of cartoons of the Prophet Muhammed.
In November 2011, Charlie Hebdo's offices caught fire the day it was due to publish a cover making fun of Islamic law.