Brazil Protests over Transport Price Hike Turn Violent
TEHRAN (Tasnim) - Protests in Brazil's two biggest cities over a rate increase in public transportation fares that was enacted earlier this week ended in violence.
January, 10, 2015 - 14:17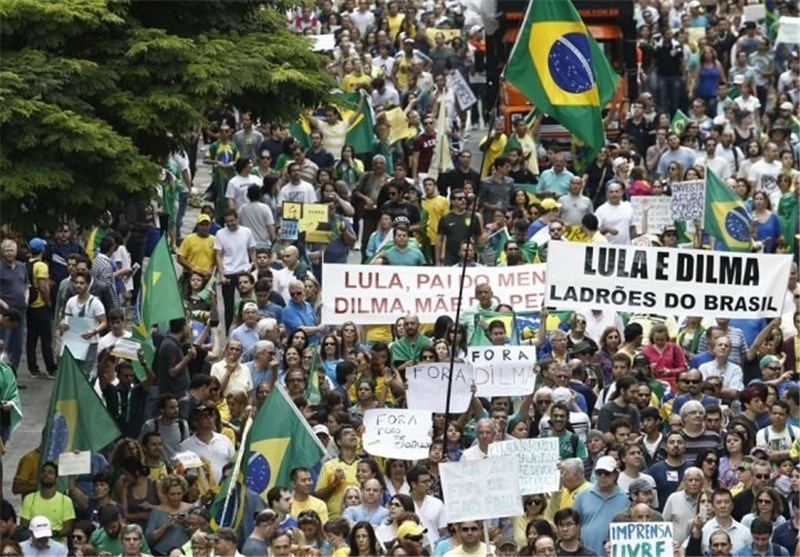 In São Paulo, the event organized by Movimento Passe Livre, or Free Fare Movement, MPL, turned out approximately 10,000 demonstrators, according to an Anadolu Agency correspondent at the scene. Police put the number at 2,000 at the start of the event, while the MPL said 30,000 protesters participated.
The crowd marched around the city center in protest of the 50 centavo increase to $1.33 (3.50 reais) for bus, local train and metro services.
Although the majority of participants marched peacefully -- some of whom are demanding free public transport for all -- dozens of young demonstrators dressed in black and with covered faces threw trash into the street before they hurled rocks at police, about an hour after the march began.
Riot police responded with volleys of tear gas, stun grenades and rubber bullets before detaining 51 people.
Three banks and two cars were vandalized in the disturbance that lasted more than an hour, with groups splitting off in different directions and the main bulk of protesters dispersing after running from projectiles.
The G1 news portal said around 200 protesters continued to the scheduled end of the protests despite the unrest, and agreed to another event next week.
In Rio de Janeiro, where bus prices recently increased 40 centavos to 3.40 reais, a smaller protest took place.
Most of the 500 demonstrators, according to police figures, were peaceful, but a small minority burned trash in the streets and invaded the famous Central do Brasil rail station, where they symbolically jumped the turnstiles.
Police responded with stun grenades, but the event ended without detentions.
The protests evoked memories of the mass protests in June and July 2013, sparked initially by a hike in bus fares in São Paulo. Those demonstrations were also led by the MPL movement.
The protests quickly ballooned to a point where more than 1 million people took to the streets in more than 300 cities across Brazil, the biggest demonstrations in a generation.
Apart from transportation costs, many other agendas were also brought into the mix, from demands for political reform to calls for better public services, particularly health and education.