Hollande Asked Netanyahu Not to Attend Paris Memorial March: Report
January, 12, 2015 - 15:16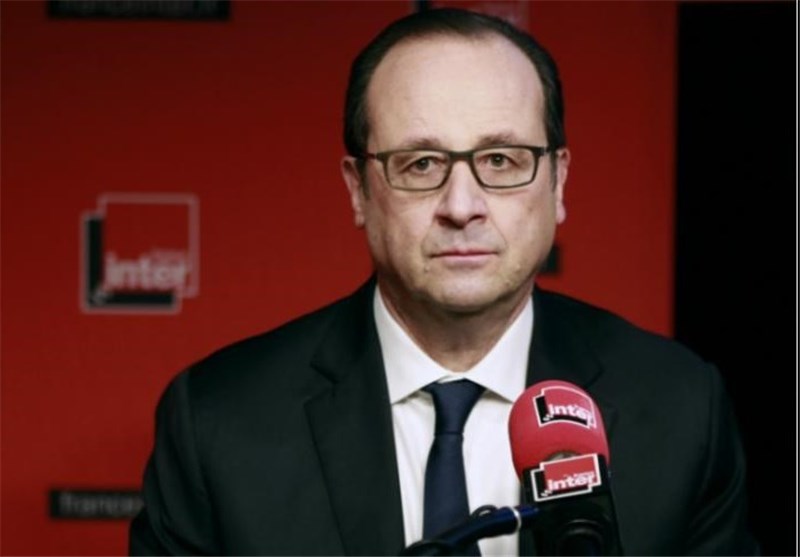 TEHRAN (Tasnim) - French President Francois Hollande conveyed a message to Israeli Prime Minister Benjamin Netanyahu over the weekend asking him not to come to Paris to take part in the march against terror on Sunday, Israeli media reports said.
The fact that this message had been conveyed was first reported by Channel 2.
After the French government began to send invitations to world leaders to participate in the rally against terror, Hollande's national security adviser, Jacques Audibert, contacted his Israeli counterpart, Yossi Cohen, and said that Hollande would prefer that Netanyahu not attend, Haaretz said quoting an Israeli source.
Audibert explained that Hollande wanted the event to focus on demonstrating solidarity with France, and to avoid anything liable to divert attention to other controversial issues, like Jewish-Muslim relations or the Israeli-Palestinian conflict.
Audibert said that Hollande hoped that Netanyahu would understand the difficulties his arrival might pose and would announce that he would not be attending.
The source noted that one of the French concerns - not conveyed to representatives of Israel - was that Netanyahu would take advantage of the event for campaign purposes and make speeches, especially about the Jews of France.
Such statements, the Elysee Palace feared, would hurt the demonstration of solidarity the French government was trying to promote as part of dealing with the terror attacks.
According to the source, Netanyahu at first acquiesced to the French request. In any case, the Shin Bet security service unit that protects public figures considered the arrangements for the prime minister's security to be complex. And so, on Saturday evening, Netanyahu's people announced that he would not be flying to Paris because of security concerns. Netanyahu told the French he would come to France on Tuesday for a Jewish community event.
The French apparently sent the same message to Palestinian Authority President Mahmoud Abbas. Like Netanyahu, Abbas acceded to the French request and released a strange statement about the same time Netanyahu released his, that he would not be attending the event because of the bad weather.
However, on Saturday night, Foreign Minister Avigdor Lieberman and Economy Minister Naftali Bennett announced their intention to go to Paris and take part in the march and meet with the Jewish community. When Netanyahu heard they were going, he informed the French he would be attending the march after all.