Palestinians Condemn Deadly Attacks in Paris
TEHRAN (Tasnim) - Hundreds of Palestinians gathered in the occupied West Bank city of Ramallah and Gaza City to lash out at the recent terrorist attacks in France.
January, 12, 2015 - 18:28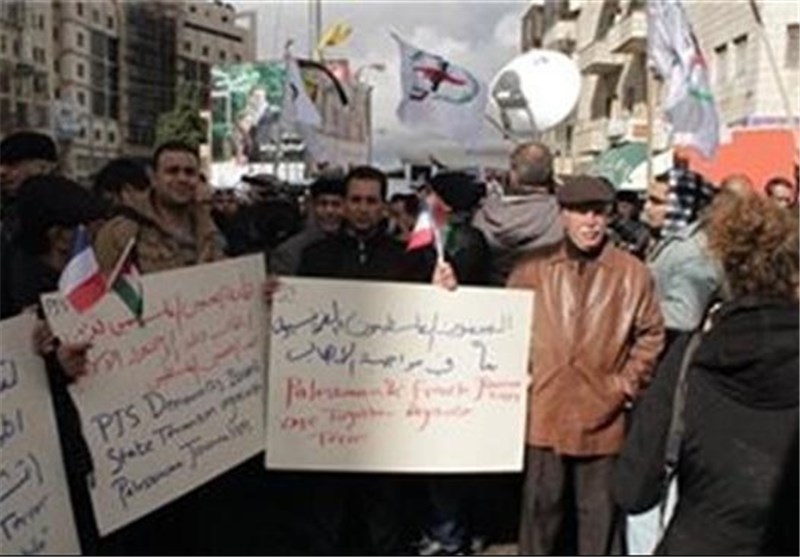 On Sunday, Palestinian demonstrators gathered in al-Manara Square in Ramallah, rejecting all forms of terrorism, Press TV reported.
"Our message to France is that we defend our common values -- the values of freedom, justice, and equality between peoples -- and we are sure that terrorism will be defeated," said Yasser Abed Rabbo, the secretary-general of the executive committee of the Palestinian Liberty Organization.
"The way to do that is through democracy," he added.
Abbas Zaki, a senior member of the Palestinian Fatah movement, said the attacks in France were "against civilization," adding that the rally in Ramallah "is a message to the world that the Palestinian people, who are the people who have suffered the most due to terrorism, reject terrorism in all its forms."
Gazans also gathered in front of the French Cultural Center in Gaza City, condemning the terrorist attacks.
Amjad al-Shawwa, the director of the Palestinian Network of NGOs, said that Palestinians condemn terrorism "whatever its justifications were."
"Despite the pain of our people and what they've been through, we feel for others, and especially those who suffer," Shawwa said.
On Sunday, hundreds of thousands of anti-terrorism protesters gathered for a rally in Paris, with world leaders and officials in attendance. The event came after days of deadly attacks, which claimed the lives of 17 people and three gunmen in France.