Basij Commander Mocks Bibi's Appearance at Paris March
TEHRAN (Tasnim) - Commander of Iran's Basij (volunteer) Force Brigadier General Mohammad Reza Naqdi decried Benjamin Netanyahu's presence in a Sunday anti-terror rally in Paris as a media propaganda launched by a regime that slaughters Palestinians.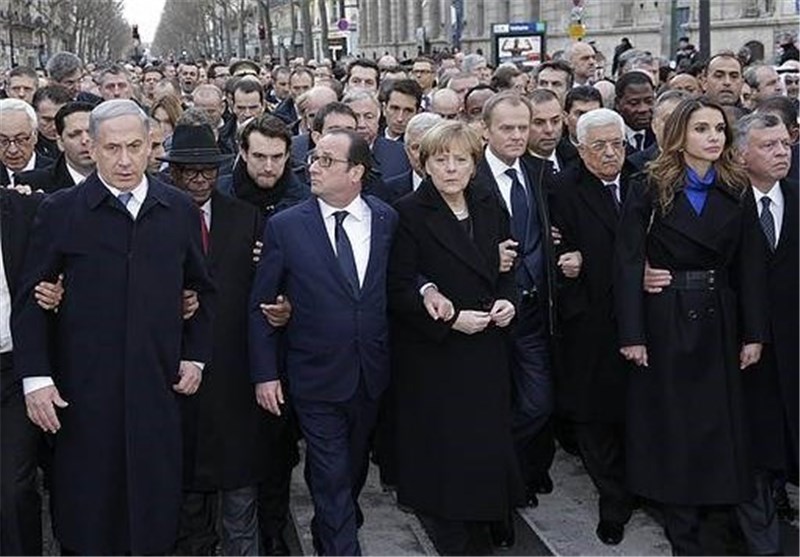 Participation of Netanyahu, representative of the terrorist Zionist regime of Israel that killed 2,000 Palestinians in summer 2014, at the frontline of anti-terror demonstrations in Paris is a "media sorcery", the commander said in a cultural ceremony in Tehran on Tuesday.
On Sunday, more than 50 world leaders linked arms to lead more than a million French citizens through Paris in a march to pay tribute to victims of recent terrorist attacks in France.
A string of fatal incidents in the European country took the lives of 17 people in three days of violence which began with an attack on the Charlie Hebdo satirical weekly on January 7, and ended with Friday's dual hostage-taking at a print works outside Paris and kosher supermarket in the city.
Israeli Prime Minister Netanyahu had also attended the unity rally in Paris, although French President Francois Hollande had asked him not to attend the march, claiming that his presence would be divisive.
Israel itself has already come under fire from international community for committing heinous crimes against Palestinian in a war that it launched on the Gaza strip in July 2014.
In a reminder of the Tel Aviv regime's brutalities, over 2,000 Palestinians, most of them civilians including more than 490 children, were killed in Gaza after Israel launched an offensive on the coastal enclave of 1.8 million population on July 8, 2014.