Iran in Best Conditions, Resists All Pressures: Nasrallah
TEHRAN (Tasnim) – Secretary General of the Lebanese Hezbollah Resistance Movement Seyed Hassan Nasrallah described Iran's current situation as excellent and said Tehran is capable of standing up against all pressures.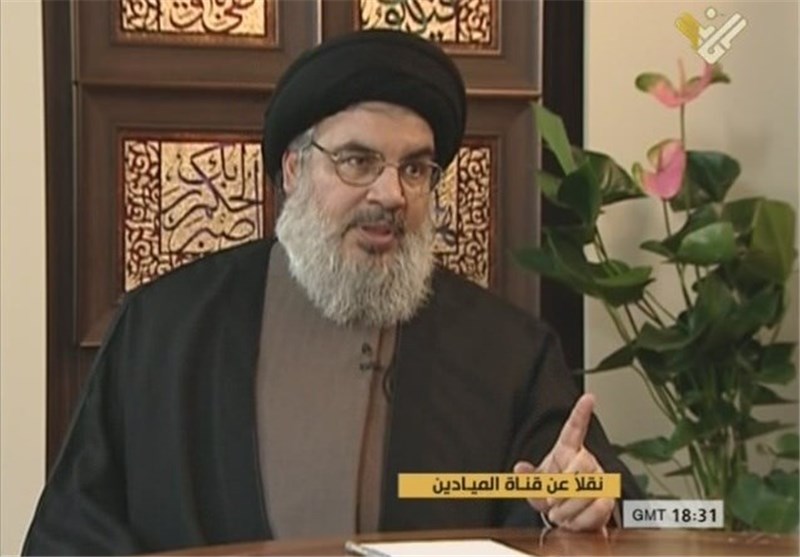 "Today, Iran is in the best conditions," Nasrallah said in an interview with Al-Mayadeen TV Network, adding that "Iran is committed to making decisions independently and will continue to resist all pressures."
He noted that the United States and other Western countries are not happy with an Iran run by a government that makes independent decisions.
The Hezbollah leader referred to the nuclear negotiations between Iran and world powers, and said the nuclear issue is a pretext for exerting pressure on Tehran and influencing its decisions.
He underscored that Iran has provided all required guarantees about the peacefulness of its nuclear program.
Nasrallah also stressed that only the nuclear issue will be on the agenda in the nuclear talks with world powers, and that Tehran will not accept any other issue like Iraq, Syria, Lebanon or Palestine to be include in the negotiations.
Iran and the Group 5+1 (France, Britain, the United States, Russia, China, and Germany) have started a fresh round of talks aimed at hammering out a final agreement to end more than a decade of impasse over Tehran's peaceful nuclear program.
The two sides wrapped up their latest round of nuclear talks in the Swiss city of Geneva on December 17, 2014, three weeks after they failed to reach a final agreement by a November 24 deadline despite making some progress.
They agreed to extend their discussions until July 1, 2015.