Desecration of Sanctities Is Ignorance Not Freedom, Iranian Cleric Says
TEHRAN (Tasnim) – A senior Iranian cleric condemned the desecration of the Holy Prophet of Islam (PBUH) by a French magazine, saying the move has nothing to do with freedom of expression.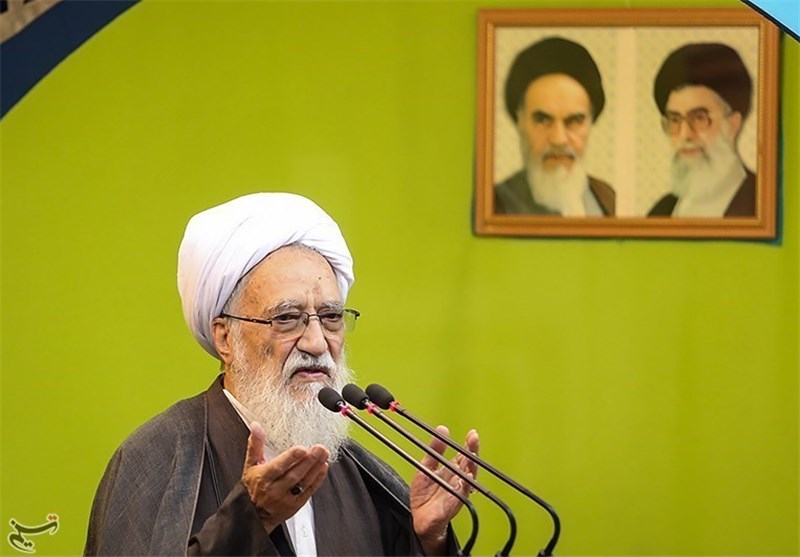 Addressing a large group of Iranian worshipers here in Tehran, the city's Provisional Friday Prayers Leader Ayatollah Mohammad Ali Movahedi Kermani described insulting the Holy Prophet (PBUH) as a painful issue and a crime which has nothing to do with freedom but has to do with ignorance, shamelessness and irreverence.
The French satirical magazine Charlie Hebdo on Wednesday issued a special edition featuring a cartoon that depicts Prophet Muhammad (PBUH) holding a "Je suis Charlie" sign.
The slogan has been widely used following the January 7 attack on the magazine that left 12 people dead. The French magazine has repeatedly provoked Muslim ire by publishing cartoons mocking Holy Prophet (PBUH).
Ayatollah Movahedi Kermani said the blasphemous move was a sign of hostility toward Islam as a religion that has powerful attraction and is rapidly growing in Europe.
Elsewhere in his remarks, the senior cleric denounced the participation of the Zionist regime of Israel's prime minister in the recent rallies held in Paris against terrorism.
"These criminals … who are real terrorists themselves and foster terrorism attend the rallies and condemn terrorism. The bloodthirsty prime minister of Israel, (Benjamin) Netanyahu, takes part in the rally and denounces terrorism. (Isn't it ludicrous that) this child-killing and brutal regime condemns terrorism?"
Netanyahu went uninvited to the Paris rally held Sunday in protest at recent killings in the French capital.
Earlier media reports said France had reportedly asked the Israeli premier to stay away from the weekend solidarity march, but Netanyahu ignored the call.