Iran's FM Holds Talks with US, French Counterparts in Paris
January, 17, 2015 - 10:56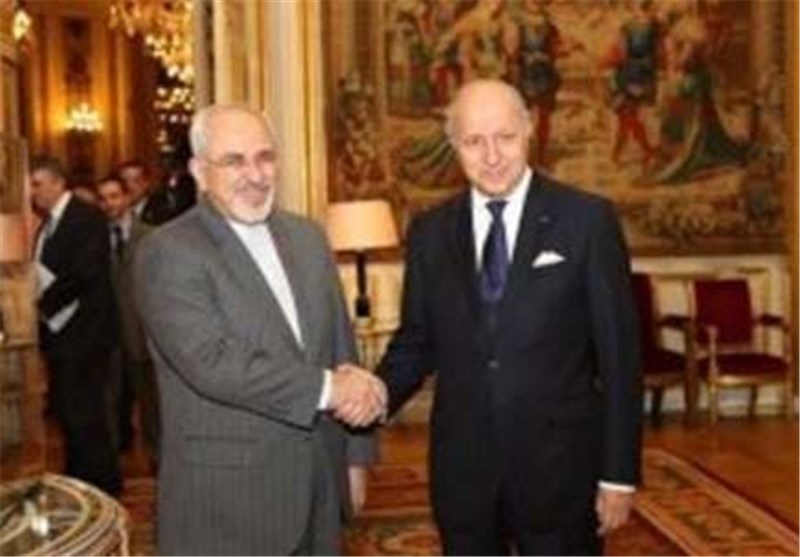 TEHRAN (Tasnim) – Iranian Foreign Minister Mohammad Javad Zarif held separate meetings with US Secretary of State John Kerry and French Foreign Minister Laurent Fabius in Paris to discuss Tehran's peaceful nuclear program as well as regional and international issues.
In an effort to accelerate nuclear negotiations with world powers on Friday, Zarif and Kerry held their fourth bilateral meeting in three days. Their meeting was held in the French capital, Paris.
After his meeting with Kerry, Zarif also met with his French counterpart Fabius and discussed a number of issues including the negotiations over Iran's nuclear energy program.
Elsewhere in his meeting with Fabius, Iranian foreign minister voiced Tehran's preparedness to improve ties between Tehran and Paris, and emphasized the need to remove obstacles, especially in banking sector. They also discussed regional developments, especially in Syria, Lebanon, and Iraq, and Iran's role in restoring peace and stability to the region.
Pointing to the recent terrorist attacks in the European country, Zarif expressed Iran's sympathy with the French nation and government, and condemned all forms of terrorism.
"The principle of freedom of speech should be considered along with the principles of freedom of thought and freedom of belief," the Iranian official added, while slamming the abuse of freedom of speech and insulting the sanctities of other religions.
Iran's foreign minister, who is also Iran's chief nuclear negotiator, is in Europe for the latest round of nuclear talks between Iran and six world powers.
The latest round of nuclear talks between Iran and the Group 5+1 (the five permanent UNSC members plus Germany) kicked off in Geneva, Switzerland, on Wednesday with bilateral meeting between Iran's Zarif and US's Kerry.
The Iranian top diplomat had also held meetings with his German counterpart in Berlin and the European Union's foreign policy chief in Brussels on Thursday.
Iran and world powers wrapped up their nuclear talks in the Swiss city of Geneva on December 17, 2014, three weeks after they failed to reach a final agreement by a November 24 deadline despite making some progress. The two sides agreed to extend their negotiations for 7 more months.