Roadside Bomb, Suicide Attacks Kill 5, Wound 17 in Afghanistan
January, 18, 2015 - 18:26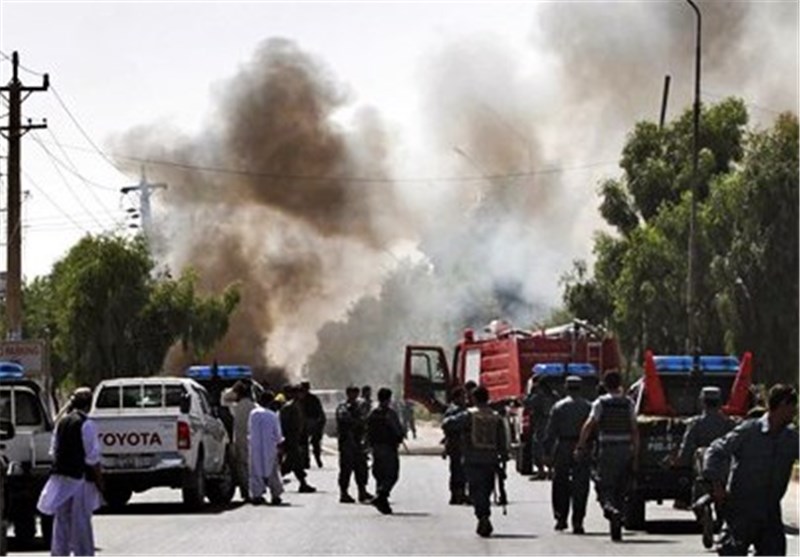 TEHRAN (Tasnim) - Five persons including two suicide bombers were killed and 17 others mostly civilians sustained injuries as a roadside bomb and two suicide car bombs rocked the eastern Khost and southern Kandahar and Helmand provinces on Sunday, officials said.
In the latest violent offensive, a roadside bomb targeted a police van in the eastern Khost province, injuring five people including three police and two civilians, spokesman for provincial government Mubariz Zadran said.
"A mine planted by militants struck a police vehicle in the outskirts of Khost provincial capital the Khost city at around 02: 00 pm local time today, injuring three personnel of Border Police Force and two civilians," Zadran told Xinhua.
He also added that efforts were underway to identify and bring to justice those behind the offensive.
Moreover, a suicide car bomb attack against a convoy of security personnel in the southern Helmand province almost at the same time claimed the lives of three police personnel and injuring 10 others, including civilians, according to a local official Omar Zawak.
"Three police were killed and 10 others including civilians sustained injuries as a terrorist driving an explosive-borne car blew himself up next to a convoy of security forces at 02:00 pm local time today," spokesman for Helmand provincial government Omar Zawak told reporters.
The bomber was also killed in his blast, the official added.
He also said that the bloody incident occurred on the road linking provincial capital Lashkar Gah to the troubled Sangin district.
Earlier on the day a suicide car bomb in Taliban former stronghold the southern Kandahar province claimed one life and injured two others. "A suicide car bombing rocked Kandahar city, the provincial capital of Kandahar province Sunday morning, killing the attacker and injuring two persons," a police officer told Xinhua but declined to be identified.
The officer said authorized officials would brief the media after completion of investigation.
According to the police officer, the blast took place at around 9:50 am local time (0520 GMT) in Hino Meena locality, leaving the bomber dead and injuring a child and a police constable.
The suicide bomber driving an explosive-laden car was attempting to enter the Hino Meena locality but police identified and ordered him to stop. However, the bomber blew up his car, killing himself and injuring two others, the source added.