Iran Stresses Significance of Iraq's Territorial Integrity
TEHRAN (Tasnim) – Iranian Parliament Speaker Ali Larijani renewed the country's support for unity and territorial integrity in neighboring Iraq.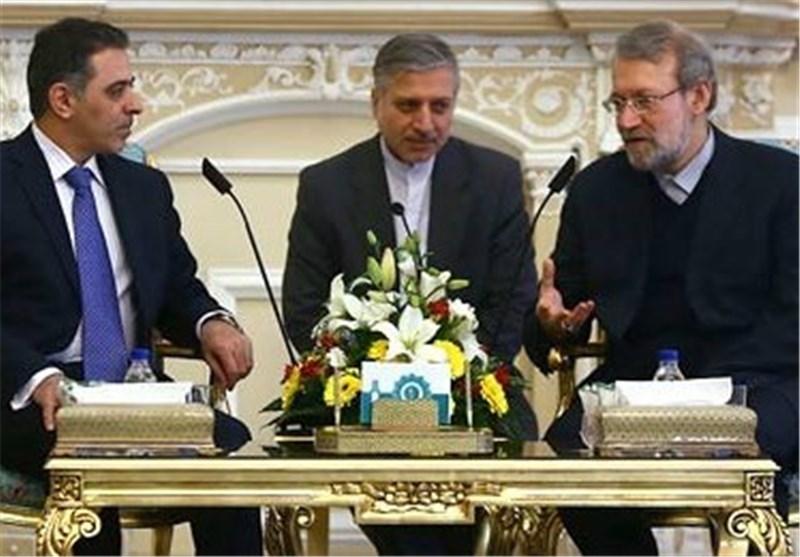 "Protecting and strengthening of territorial integrity of Iraq, as a major Muslim country in the Islamic world, is a strategic issue for the Islamic Republic of Iran," Larijani said in a meeting with Iraq's Interior Minister Mohammed Salem al-Ghabban, in Tehran on Monday.
To counter the threat of the ISIL terrorist group, Larijani said Iraq needs to preserve national unity and support the voluntary forces that fight against the foreign-backed militants along with the Iraqi military forces.
Elsewhere, the Iranian speaker noted that job creation and establishment of industrial factories will contribute to the development of Iraq, which in turn will help provide peace and security in the Arab country.
For his part, the visiting Iraqi minister expressed gratitude to Iran for its unwavering support for the Iraqi nation.
Ghabban said unity among the Iraqi people is the key to the Arab country's triumph over the extremist forces and assailants.
Iraq has been facing growing threat of terrorism, mainly posed by the ISIL terrorist group in recent months.
The ISIL militants made advances in northern and western Iraq over summer 2014, after capturing swaths of northern Syria.
However, a combination of concentrated attacks by the Iraqi military and the popular forces, who rushed to take arms after top Iraqi cleric Ayatollah Ali al-Sistani issued a fatwa calling for fight against the militants, have blunted the edge of the ISIL offensive and retaken many towns and villages.
Amid the escalating situation in Iraq, Iran is known as the first country to help the Arab country and has always voiced support for Iraq's solidarity and prosperity.