S. Korea Group Launches Anti-Pyongyang Leaflets despite Calls to Refrain
TEHRAN (Tasnim) - A South Korean activist group led by a defector from North Korea said on Tuesday it had launched balloons with messages critical of the North's leader across the border, defying a request by Seoul to refrain as it pursues dialogue with Pyongyang.
January, 20, 2015 - 11:12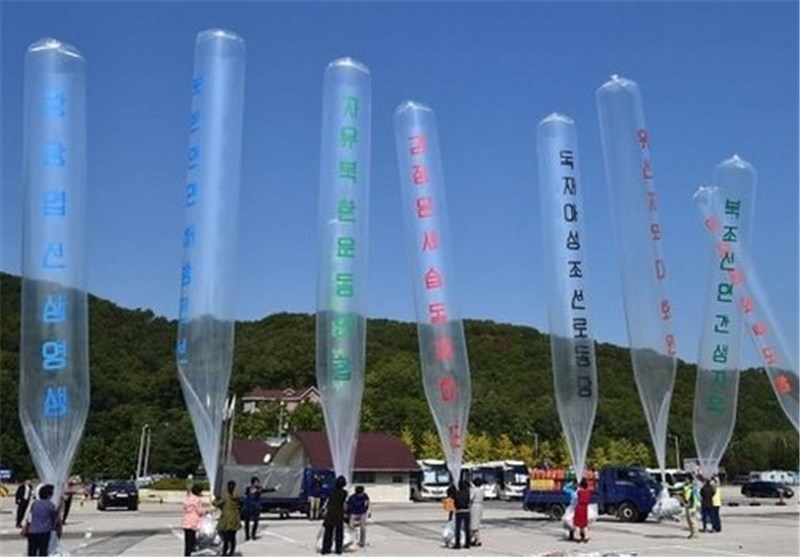 The South Korean government has tried to persuade the group and other activists to "make a wise decision" and hold off on sending the leaflets because doing so would inflame social discord in the South and potentially create security risks.
The balloon message launch comes after South Korean President Park Geun-hye renewed calls for dialogue with North Korea last week.
Pyongyang had threatened military action if the leaflet launches were allowed by South Korean authorities and said the protest balloons were damaging to inter-Korean dialogue aimed at easing tensions and improving ties, Reuters reported.
Park Sang-hak, the North Korean defector who has previously launched message balloons into the North, said his group late on Monday secretly sent a batch of balloons over the border.
South Korea's Unification Ministry, which handles ties with the North, said it was aware of the move but had no plans to step in more forcefully to prevent groups' future plans.
Park's group has said it planned to send copies of the movie "The Interview" with fictional plot to assassinate North Korean leader Kim Jong Un to the North tied to balloons.
North Korea has said the US government has committed "an act of war" by allowing the movie to be made.
The North has previously fired at the protest balloons near the border with shells landing in the South.