Turkish MPs Scrap Corruption Trial for Pro-Erdogan Ex-Ministers
TEHRAN (Tasnim) - The Turkish parliament voted against putting on trial four former ex-ministers accused in a 2013 graft investigation, drawing a line under a scandal that shook President Recep Tayyip Erdogan's government.
January, 21, 2015 - 16:44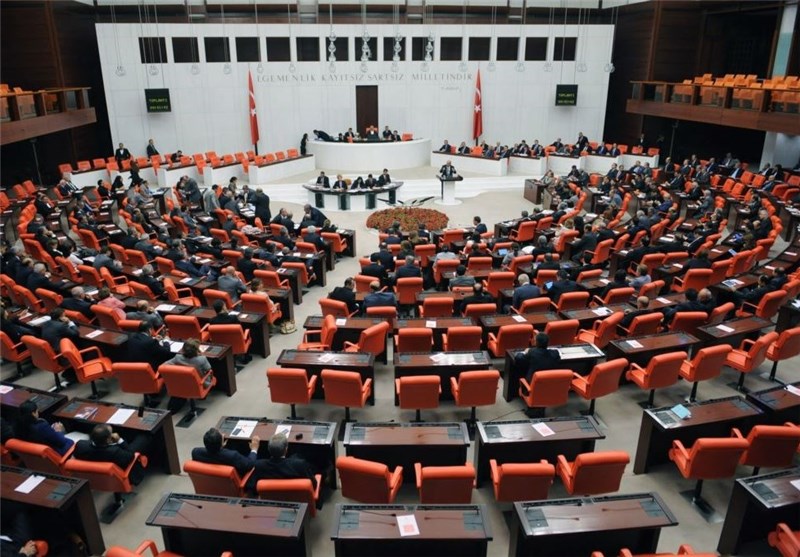 The parliament, in which the ruling Justice and Development Party (AKP) has a comfortable majority, decided not to send the ministers' cases to the Supreme Council court, which only hears cases against cabinet ministers and other top officials.
The 550-seat parliament voted on the fate of each of the ex-ministers -- all Erdogan allies -- in secret ballots. Although the AKP's parliamentary majority made the outcome of the vote a foregone conclusion, several ruling party lawmakers broke party lines and voted for sending the ministers to trial.
A parliamentary commission dominated by AKP lawmakers was set up in May to examine corruption allegations against the four ministers and had already cleared the ministers earlier this month.
Ahead of the vote, main opposition Republican People's Party (CHP) head Kemal Kilicdaroglu urged the AKP lawmakers not to bury the case, AFP reported.
"I want the parliament to fulfil its duty with integrity.... This parliament cannot accept dirt. Let's not be contaminated with dirt here," he said.
Former interior minister Muammer Guler, ex-environment minister Erdogan Bayraktar, ex-economy minister Zafer Caglayan and ex-EU affairs minister Egemen Bagis faced accusations of bribery and influence-peddling.
All of them resigned in the wake of the graft probe, which prompted a swift cabinet shake-up, but they maintained their innocence.
The sons of Guler, Bayraktar and Caglayan were detained by police at the time as well as a host of other prominent figures who were later released. Prosecutors have already dropped a criminal case against 53 people, citing lack of evidence.
None of the ministers took to the floor to address the parliament ahead of the vote on Tuesday.