Obama Declares Nuclear 'Breakthrough' during India Trip
January, 26, 2015 - 10:50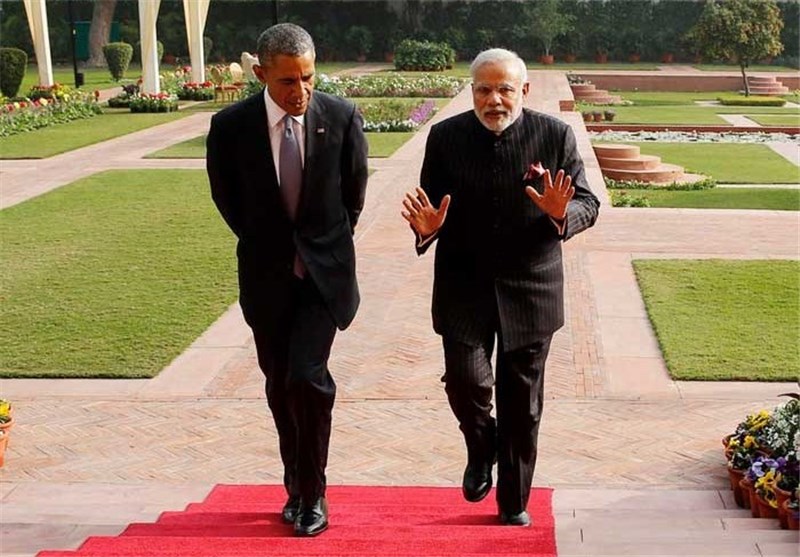 TEHRAN (Tasnim) - US President Barack Obama and Indian Prime Minister Narendra Modi announced that they have reached a "breakthrough understanding" in efforts to allow US investment in nuclear energy development in India.
Obama arrived in the New Delhi on Sunday for an unprecedented second visit to India by a serving US president aimed at consolidating what he has called one of the "defining partnerships of the 21st century".
He said at a news conference in the capital with Modi that the two countries had made progress on two issues holding up commercial civil nuclear cooperation, one of the major irritants in bilateral ties.
"We are committed to moving towards full implementation," Obama said. "This is an important step that shows how we can work together to elevate our relationship."
The agreement resolved differences over the liability of suppliers to India in the event of a nuclear accident and US demands on tracking the whereabouts of material supplied to the country, US ambassador to India Richard Verma told reporters, the Reuters news agency reported.
"Ultimately it is up to the companies to go forward, but the two governments came to an understanding," he added.
"I am pleased that six years after we signed our bilateral agreement, we are moving towards commercial cooperation, consistent with our laws [and] international legal obligations," Modi said at the news conference.
The two countries had signed a deal in 2008 giving India access to civilian nuclear technology, but it has been held up by US concerns over India's strict laws on liability in the event of a nuclear accident.
Modi said a climate deal between the US and China did not put pressure on India, but that global warming itself was reason enough to take action.
India, the world's third largest carbon emitter, is reluctant to follow the other two in committing to a peak year for emissions on the grounds it needs economic growth.