Putin: Ukraine Army Is NATO Legion Aimed at Restraining Russia
TEHRAN (Tasnim) - The Ukrainian army is essentially a 'NATO legion' which doesn't pursue the national interests of Ukraine, but persists to restrict Russia, President Vladimir Putin said.
January, 27, 2015 - 11:43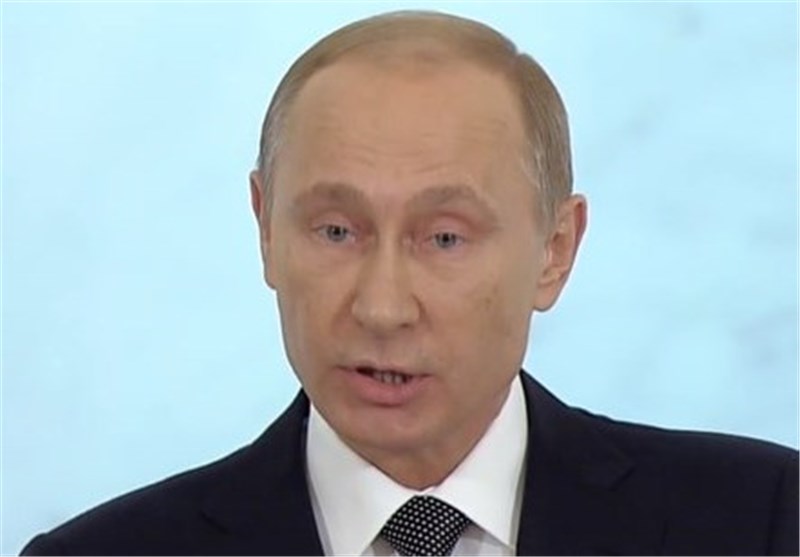 "We often say: Ukrainian Army, Ukrainian Army. But who is really fighting there? There are, indeed, partially official units of armed forces, but largely there are the so-called 'volunteer nationalist battalions'," said Putin.
He added that the intention of Ukrainian troops is connected with "achieving the geopolitical goals of restraining Russia." Putin was addressing students in the city of St. Petersburg.
According to Putin, the Ukrainian army "is not an army, but a foreign legion, in this case a foreign NATO legion, which, of course, doesn't pursue the national interests of Ukraine."
Kiev has been reluctant to find political solutions to the crisis in eastern Ukraine and only used the ceasefire to regroup its forces, the president stressed.
"Unfortunately official Kiev authorities refuse to follow the path of a peaceful solution. They don't want to resolve [the crisis] using political tools," Putin said, adding that first Kiev authorities had first used law enforcement, then security services and then the army in the region.
"It is essentially a civil war [in Ukraine]. In my view, many in Ukraine already understand this," Putin added.
NATO Secretary General Jens Stoltenberg has reacted to President Putin's words, calling his statement "nonsense."
"The statement that there is a NATO legion in Ukraine is nonsense. There is no NATO legion," Stoltenberg told reporters.
Already tense situation in eastern Ukraine gone downhill in past 2 weeks. The escalation of violence came after a controversial incident at a Kiev-controlled checkpoint near the town of Volnovakha, where 12 passengers were killed on January 13, RT reported.