Iran Seeks to Denude Enemy of Sanctions Leverage via Talks: President
TEHRAN (Tasnim) – Iranian President Hassan Rouhani described negotiation as the best procedure for having the enemy put aside the "cruel and illegitimate" sanctions against Iran over its peaceful nuclear program.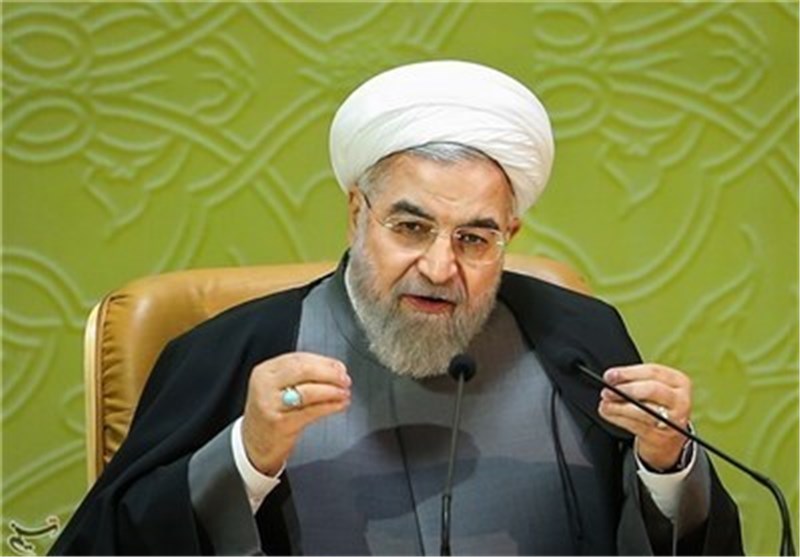 "Our effort is to remove the weapon of sanctions from the hand of the enemy through negotiations; because sanction is illegitimate, cruel and against human rights; and to that end (lifting sanctions), negotiation is the best approach," President Rouhani said in a press conference in the city of Qom on Thursday.
He said the enemy "is brandishing a sword in the darkness" that could hurt anybody, adding that Iran has used negotiations as a way to grab and squeeze the enemy's wrist to force it drop the sword, a term he used to refer to sanctions.
Commenting on the course of nuclear talks between Iran and the Group 5+1 (Russia, China, the US, Britain, France and Germany), President Rouhani said Tehran has handled the negotiations in such a way that the world will blame the other side for a possible failure of the talks.
He also criticized the US for putting obstacles in the way of talks on Iran's peaceful nuclear program over the past years, adding, "Today, this is the Americans who should try to correct the wrong steps they have taken."
Earlier this month, Supreme Leader of the Islamic Revolution Ayatollah Seyed Ali Khamenei also called on the Iranian team of negotiators to try to make the enemy void of its leverage, namely the sanctions.
"It will be very good if such thing happens and the enemy becomes disarmed of sanctions, but if it does not happen, everybody should know that there are lots of ways inside the country to stifle the weapon of sanctions," the Leader added.
Iran and the Group 5+1 (also known as P5+1 and E3+3) are in talks to hammer out a final agreement to end more than a decade of impasse over Tehran's nuclear energy program.
The UN Security Council and a number of Western countries have imposed a series of sanctions on Iran, suspecting that its civilian nuclear program has been diverted to nuclear weapons production.
Tehran maintains that its uranium enrichment program is for peaceful purposes only.
Several rounds of nuclear talks have been held in the past, and the current negotiations between Iran and the six powers are aimed at securing a lasting accord by the end of July.