Thousands Protest against UK Branch of Anti-Islam Group PEGIDA
TEHRAN (Tasnim) - An estimated 2,000 people protested on Saturday in the city of Newcastle, in northeast England, as part of a counter-demonstration against a smaller march held by the British branch of Germany's anti-Islam group PEGIDA.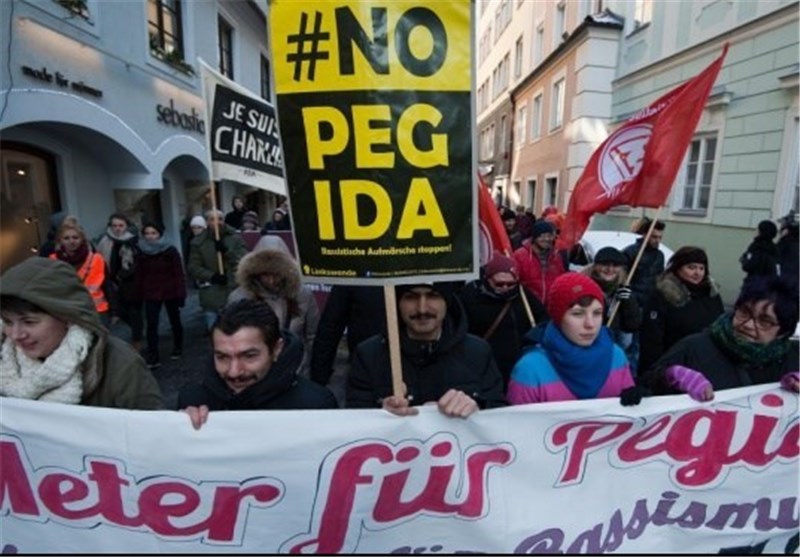 PEGIDA, which stands for "Patriotic Europeans Against the Islamization of the West" has for months been warning that Germany was being overrun by Muslims. While it has tried to spread its movement to other cities and countries, it has thus far met with limited success.
About 500 people attended Saturday's rally, PEGIDA's first-ever in the United Kingdom, the organization said on its Facebook page. That was compared to some 2,000 that staged a counter-demonstration.
The PEGIDA demonstration and rally by opponents went on relatively peacefully, according to news reports. However, five people were arrested following scuffles between supporters of PEGIDA and opposition demonstrators, the Guardian reported.
It wasn't immediately clear which side of the protests the arrestees were on, Al Jazeera reported.
Marion Rogers, a spokesperson for PEGIDA United Kingdom, a branch of the German organization, told BBC News that the rally was "about integration."
"We are not anti-Islam. We are not here to split up any communities," Rogers told BBC. "We've invited Muslims to join us against extremism, extremism of any kind. I don't think it's wrong to stand up to terrorism. Is that hate?"
PEGIDA has tried to broaden its appeal by distancing itself from the far right, saying on its Facebook page that it is against "preachers of hate, regardless of what religion" and "radicalism, regardless of whether religiously or politically motivated."