US Arrests Anti-Israeli Protesters in Washington (+Photos)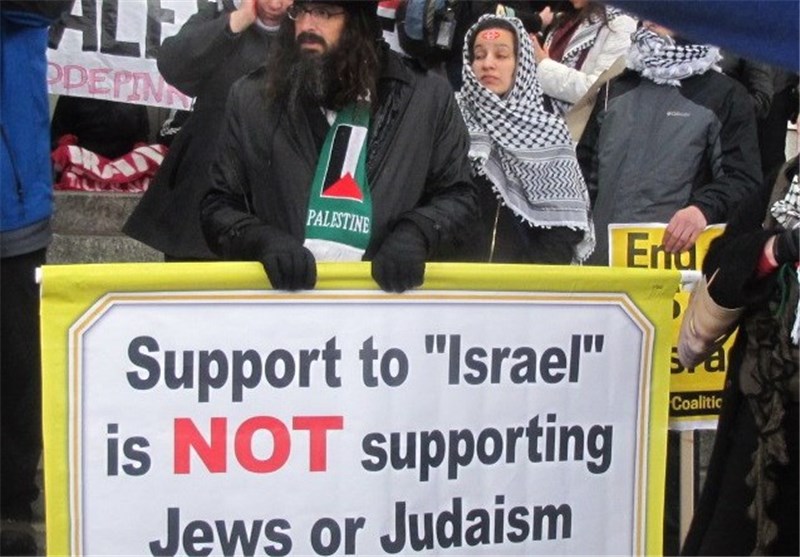 TEHRAN (Tasnim) – The US police attacked a demonstration in the capital, Washington, held to protest at Israeli Prime Minister Benjamin Netanyahu's visit to the US, and arrested five activists.
Dozens of protesters staged a sit-in outside the Washington Convention Center where Netanyahu, who arrived in the US on Sunday, is slated to deliver a speech.
The demonstration was held on the first day of the annual conference of the American Israel Public Affairs Committee (AIPAC), which is one the most powerful pro-Israel lobby groups in the US.
The demonstrators wearing Netanyahu's masks called the Israeli premier "a war criminal", emphasizing that the objective behind his trip to the US is to misinform the US authorities about Iran's nuclear program and provoke Washington to make military action against the Islamic Republic.
In a stark reminder of the Tel Aviv regime's brutalities, more than 2,000 Palestinians, most of them civilians including more than 490 children, were killed in the Gaza Strip after Israel launched an offensive on the coastal enclave of 1.8 million population on July 8, 2014.
During his speech on Monday to AIPAC, Netanyahu reportedly plans to foil an emerging White House-backed nuclear deal between Iran and six world powers over Tehran's peaceful nuclear activities.