Mourners Honor Russian Opposition Leader Nemtsov
TEHRAN (Tasnim) - Mourners for the Russian opposition leader Boris Nemtsov gathered for his funeral in Moscow as a Russian news agency reported that authorities had allowed a Ukrainian witness to his murder to return to Kiev.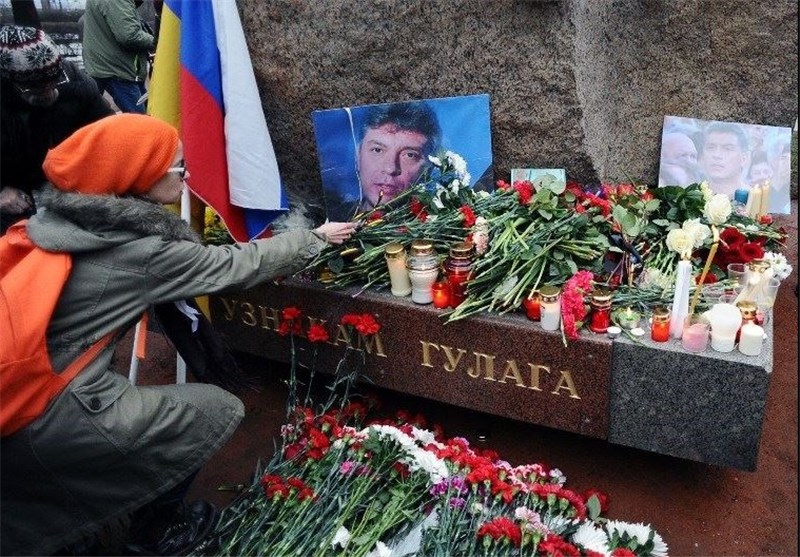 The body of Nemtsov, 55, who was shot dead near the Kremlin four days ago, lay in state on Tuesday at the Andrei Sakharov rights center ahead of his burial in Moscow's Troekurovskoye cemetery.
Nemtsov - a former deputy prime minister and a longtime critic of Russia's President Vladimir Putin - died after four bullets were fired into his back late on Friday when he was walking with a female companion in one of the most heavily policed areas of the capital.
On Monday, Sergey Lavrov, Russia's foreign minister, pledged that the "heinous crime" would be "fully investigated".
A reward of three million rubles ($48,000) was offered for information on Nemtsov's death, a substantial amount in Moscow, where the average monthly salary is 60,000 rubles ($960).
Ganna Duritska, a Ukrainian model who was with Nemtsov at the time of the attack, said on Monday that she had given all the information she could to investigators but they were preventing her from leaving Russia, citing concerns for her security.
However, Russia's Itar-Tass news agency later reported that Duritska had been allowed to return to Kiev.
Meanwhile, Bogdan Borusewicz, Poland's Senate speaker, said he was unable to attend Nemtsov's funeral as his visa application had been refused by Moscow.
The Polish foreign ministry claimed the move was a reprisal for the sanctions imposed by the European Union against Russia's upper house of parliament speaker, Valentina Matviyenko.
Sandra Kalniete, a Latvian member of the European Parliament, told the AFP news agency she had also been refused entry into Russia at Moscow's Sheremetyevo airport, and had not been given a reasonable explanation for the ban.
"Since I have always taken a clear and explicit language on Russia's role in Ukraine, I had suspicions that it could happen," she said.