Senior Commander Highlights Iranian Missiles' High Precision
TEHRAN (Tasnim) – A high-ranking Iranian commander underlined the country's progress in production of coast-to-sea missiles, saying that the missiles strike their targets with maximum precision.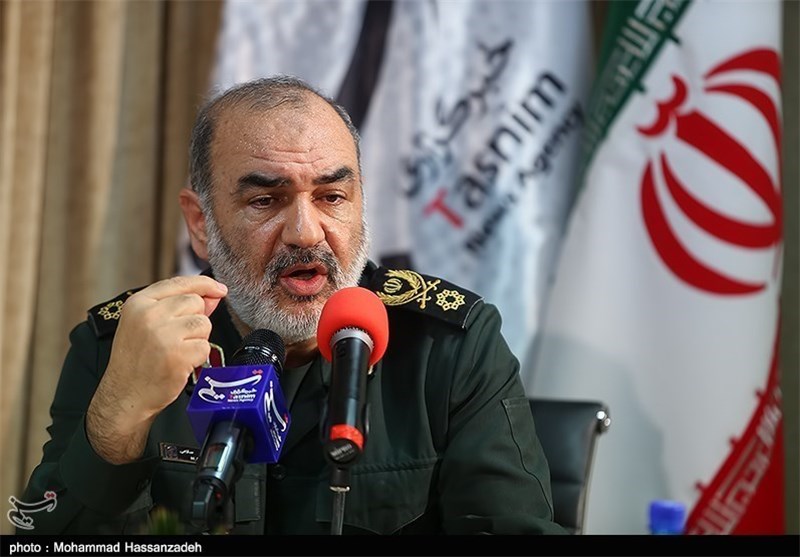 The Islamic Revolution Guards Corps (IRGC) Lieutenant Commander Brigadier General Hossein Salami said the missiles' margin of error (in precision targeting) has been reduced to zero.
He referred to the test-firing of the Khalij-e Fars (Persian Gulf) supersonic coast-to-sea ballistic missile in the recent IRGC drills, and said that the missile enjoys high speed and precision.
The IRGC conducted major maneuvers code-named The Great Prophet 9 in the southern Persian Gulf region last week.
Khalij-e Fars ballistic missile has a range of 300 kilometers (186 miles). It is equipped with a 650-kilogram explosive warhead, and benefits from a combination of guidance systems to evade interception.
While most cruise missiles travel at supersonic or high subsonic speeds, Khalij-e Fars missile is fired like other ballistic missiles, but is able to detect its targets and hit them in a vertical manner.
In recent years, Iran has made great achievements in its defense sector and has attained self-sufficiency in producing essential military equipment and systems.
Tehran has repeatedly assured other nations that its military might poses no threat to other countries, saying that the Islamic Republic's defense doctrine is based entirely on deterrence.