EU's Mogherini, Germany Downplay Ukraine Sanctions Option
TEHRAN (Tasnim) – EU foreign affairs head Federica Mogherini downplayed Friday the threat of fresh sanctions against Russia over Ukraine, insisting instead on the need for full implementation of the latest ceasefire accord.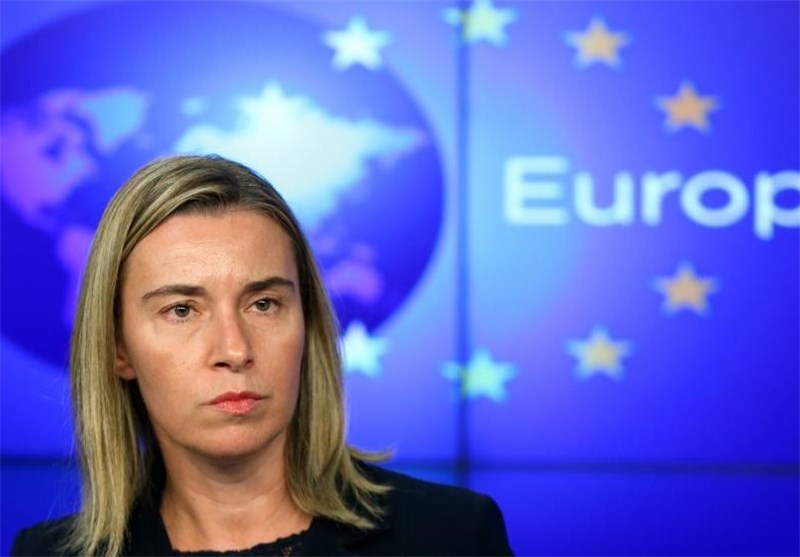 France and Germany brokered a second Minsk peace agreement with Russia and Ukraine last month which so far seems to be holding better than a September deal but the situation remains fragile.
"So far the ceasefire ... is not perfect but for sure the trend is positive," Mogherini said ahead of a meeting of EU foreign ministers in Riga where Russian intervention in Ukraine is seen as a direct security threat.
Asked about the possibility of imposing additional sanctions against Moscow, Mogherini said, "Obviously they are always there.
"They will not be lifted until something really good happens on the ground and on the other side we are always ready to increase the pressure if needed," she said.
"But I don't start from that. I start from the positive actions the European Union can do now to make things work."
The key issues were to monitor the ceasefire, especially the withdrawal of heavy weapons by both sides, and to strengthen the OSCE which monitors implementation on the ground, she said.
German Foreign Minister Frank-Walter Steinmeier made the same point, saying more needed to be done to make the ceasefire accord work and that Friday's meeting would discuss how to help the OSCE be more effective, AFP reported.
Sanctions were not on the agenda of the informal foreign ministers meeting, which is a format for discussion not decisions.
"The German position is very clear -- this depends on implementation of the Minsk accord," Steinmeier said.
"At the moment, we are trying to accelerate again the process. That is the issue in the foreground and not the question if there will be new sanctions."
As the Ukraine crisis deepened last year, the EU followed the US lead to hit prominent Russians and Ukrainians with travel bans and asset freezes.
Several member states, including Germany and Italy, were reluctant to do more until the shooting down of a Malaysia Airline plane over Ukraine in July, blamed on pro-Russian rebels in the east.
Berlin then backed much tougher economic sector sanctions which have added to the problems of Russia's struggling economy but has shown little interest in going further since.