"Technical Stalemate" in Iran Nuclear Talks Broken: Salehi
TEHRAN (Tasnim) – Head of the Atomic Energy Organization of Iran (AEOI) Ali Akbar Salehi said recent diplomatic talks in Switzerland helped end a deadlock on the technical issues in the course of talks between Iran and six world powers over Tehran's peaceful nuclear program.
Two rounds of high-profile meetings in the Swiss cities of Geneva and Montreux were very productive, good steps were taken, and the technical stalemate was broken in the nuclear negotiations between Iran and the Group 5+1 (Russia, China, the US, Britain, France and Germany), Salehi said on Saturday.
Over the past two weeks, Salehi held several meetings with US Energy Secretary Ernest Moniz in Geneva and Montreux to discuss details of the technical issues in a long-awaited nuclear deal between Iran and the Group 5+1 (alternatively known as the P+1 or E3+3).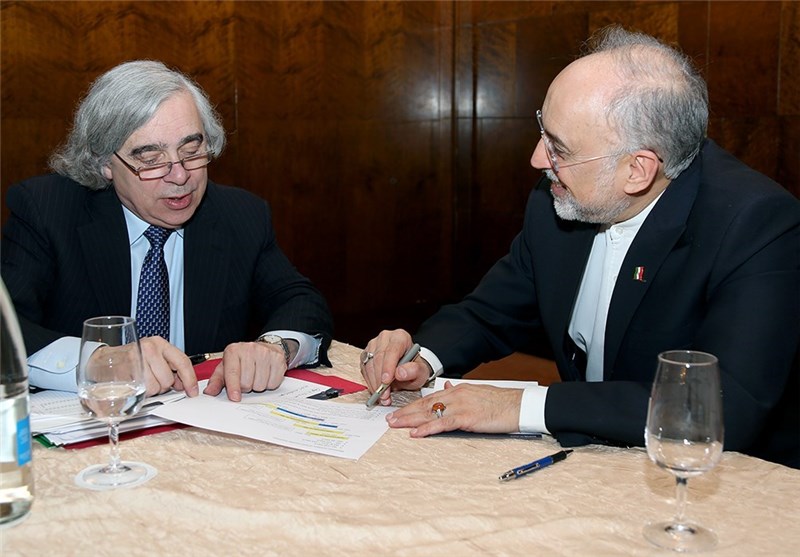 "We had reached sort of deadlock in the technical talks," Salehi noted, saying he joined the team of Iranian nuclear negotiators to discuss details with the highest-ranking US energy official.
"In those talks, we discussed (uranium) enrichment, Arak research reactor, the issue of research and development, the issue of Fordow (nuclear site) and some more detailed subjects," the AEOI chief explained.
"On the issues relating enrichment and the Arak reactor, we took very good steps and could allay their fake concerns by offering technical proposals," he pointed out.
Iran and the six nations are in talks to hammer out a final agreement to end more than a decade of impasse over Tehran's nuclear energy program.
The two sides held bilateral and multilateral negotiations in the Swiss city of Geneva earlier in February to narrow the remaining differences ahead of a deadline for a final agreement by July 1.