Commander Downplays Possible Threats against Iran, Neighboring Countries
TEHRAN (Tasnim) – Chief of Staff of the Iranian Armed Forces Major General Hassan Firouzabadi dismissed the threats made against Iran as only "verbal", saying that neither Iran nor its neighbors face a real threat.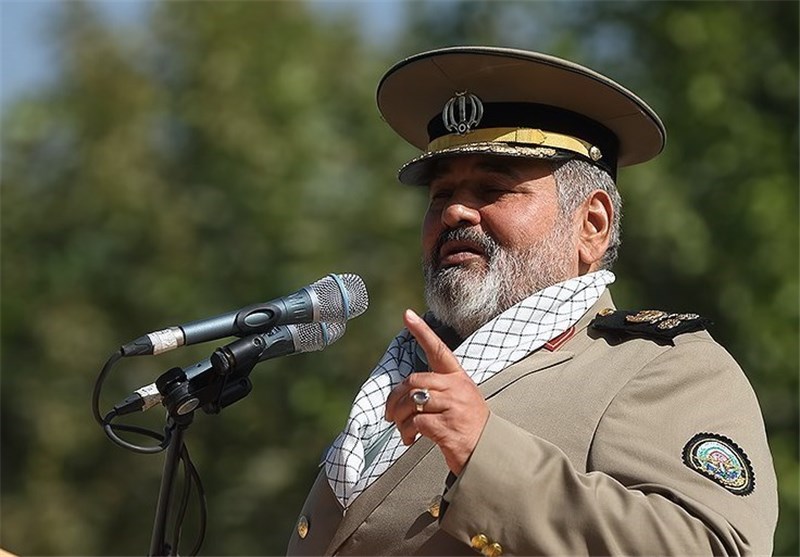 The Islamic Republic of Iran faces no threat and if some "verbal threats" are made, they are caused by the enemies' fear, Major General Firouzabadi said on the sidelines of a conference in Tehran on Sunday.
"We feel no threat or danger," he reiterated, adding, "Today, Iran has a prominent and impressive position in the region in terms of military power and political and geopolitical influence."
He also pointed to the latest developments in Iraq, and said that the Arab country has been saved from "main danger" with the support of the Islamic Republic.
Iraq has been facing the growing threat of terrorism, mainly posed by the Islamic State in Iraq and the Levant (ISIL) terrorist group.
The ISIL militants made swift advances in much of northern and western Iraq over the summer, after capturing large swaths of northern Syria.
However, a combination of concentrated attacks by the Iraqi military and the volunteer forces, who rushed to take arms after top Iraqi cleric Ayatollah Ali al-Sistani issued a fatwa calling for fight against the militants, have blunted the edge of the ISIL offensive.
Amid tensions in Iraq, Iran is known as the first country to help the Arab country and has always voiced support for Iraq's solidarity and prosperity.