Iranian Speaker, Kuwaiti Officials Discuss Bilateral, Regional Issues
TEHRAN (Tasnim) – Iranian Parliament Speaker Ali Larijani described his talks with Kuwaiti emir as "positive", saying that the two sides exchanged views on a whole range of issues, including bilateral ties and regional developments.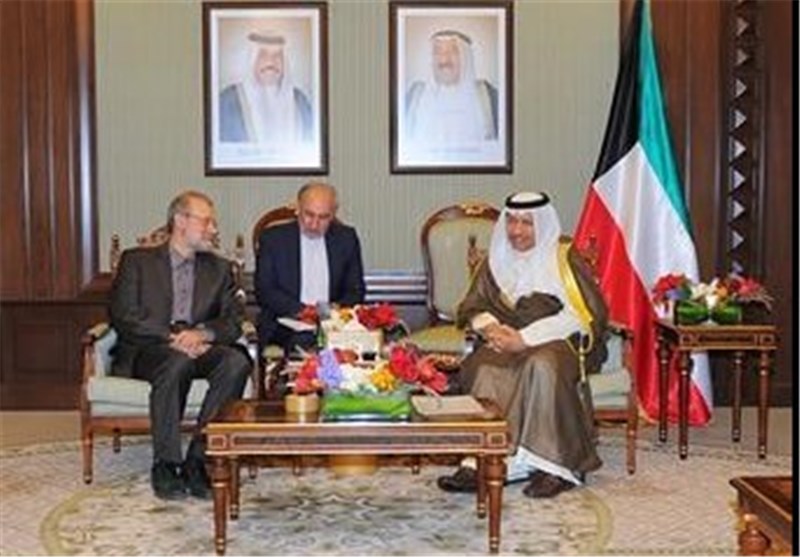 Speaking to reporters in Kuwait City, Larijani said his Tuesday meeting with Kuwaiti Emir Sheikh Sabah al-Ahmad al-Jaber al-Sabah was "constructive and positive".
He added that at the meeting, the two sides discussed bilateral issues as well as the crises in the Middle East region.
"Kuwaiti emir has a positive and good approach to the establishment of security and tranquility in the region and we regard this as positive," Larijani noted.
He further pointed to his earlier meeting with Kuwaiti Prime Minister Jaber Al-Mubarak Al-Hamad Al-Sabah, saying that some issues related to the promotion of economic relations between Iran and Kuwait as well as some suggestions in this regard were raised during the meeting.
Larijani arrived in Kuwait on Monday at the invitation of Marzouq Al-Ghanim, the Speaker of the Kuwaiti National Assembly. During his two-day visit, he held talks with the Arab country's senior officials.
The Iranian parliament speaker plans to set off for Qatar later.