President Rouhani Urges Expansion of Iran-Turkmenistan Ties
TEHRAN (Tasnim) – Iranian President Hassan Rouhani on Wednesday described the current relations between Tehran and Ashgabat as much better than before but at the same time urged that bilateral ties should develop further.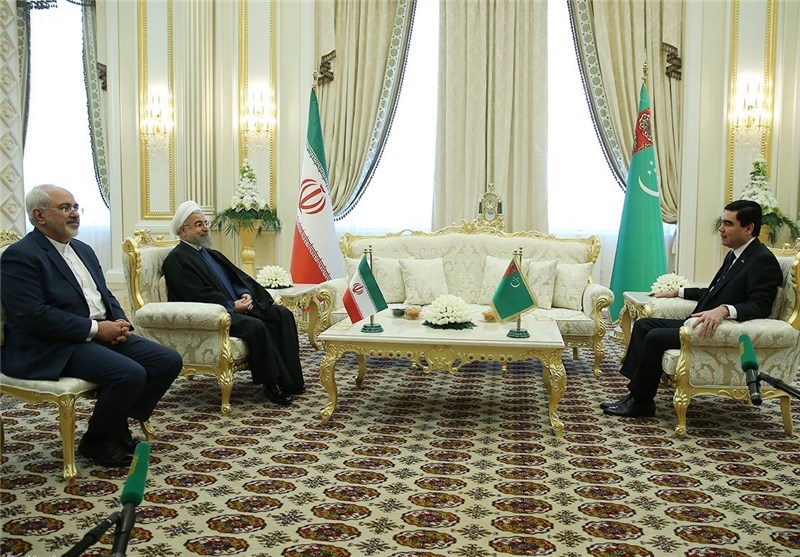 "The two nations of Iran and Turkmenistan have long had close relations and we are happy that the relations today are way better than before," Rouhani said in a meeting with his Turkmen counterpart Gurbanguly Berdimuhamedow in Ashgabat.
"Officials from both countries are well aware of the significance of very good bilateral relations," he said, adding that Tehran and Ashgabat should use all the capacities for the promotion of ties.
Rouhani also welcomed Berdimuhamedow's invitation for him to attend the International Neutrality Conference slated to be held in Ashgabat later this year, saying that Iran has always backed Turkmenistan's policy of peace and neutrality.
The Turkmen president, for his part, lauded the growing volume of trade between Tehran and Ashgabat and called for further promotion of commercial ties.
"In recent years, given the growing cooperation in different fields, bilateral ties between Tehran and Ashgabat have taken on a new meaning," Berdimuhamedow stressed.
Rouhani is on a two-day official visit to Ashgabat at the invitation of his Turkmen counterpart.
There will be a ceremony to sign bilateral cooperation agreements and then the two presidents will attend a joint press conference, Rouhani's deputy had announced on Sunday.
Later on Wednesday, the two presidents are due to join a gathering of Iranian and Turkmen traders and businessmen.