Iran to Boost Trade Ties with Turkmenistan: Rouhani
TEHRAN (Tasnim) – Iranian President Hassan Rouhani on Wednesday said Tehran and Ashgabat plan to raise the value of their trade to $60 billion in 10 years.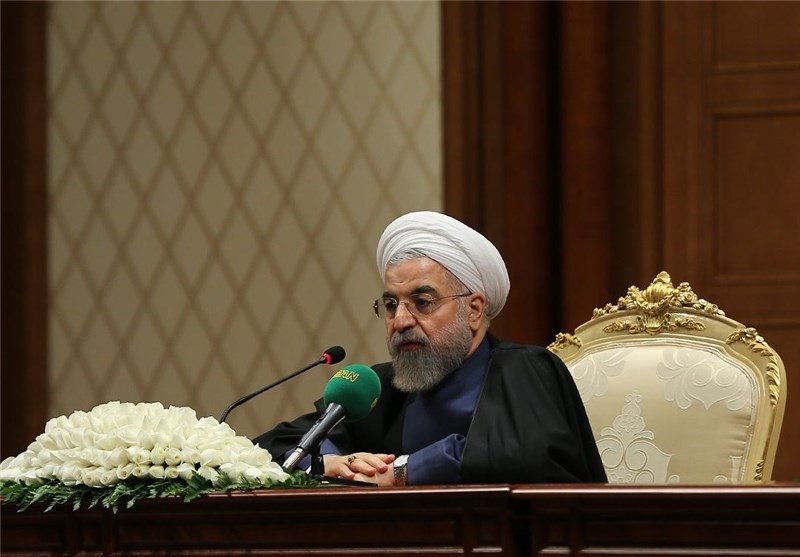 Iran and Turkmenistan have decided to increase the total value of their economic exchanges from the existing $3.7 billion to $60 billion in a ten-year period, Rouhani said in a joint press conference with his Turkmen counterpart Gurbanguly Berdimuhamedow in Ashgabat.
"We decided today to triple the volume of exchanges between the two countries via railroad transportation … and double the volume of exchanges via railroad transportation," the Iranian president added.
He went on to say that the figures are quite accessible and achievable given the capacities and potentials of the two countries as well as the political will of their leaders.
Rouhani also highlighted the two countries' determination to activate the South-North corridor from the Sea of Oman and Iran to Turkmenistan and Uzbekistan in a bid to serve the interests of all regional countries.
Heading a high-ranking delegation including four ministers and a vice-president, Rouhani is on a two-day official visit to Ashgabat at the invitation of his Turkmen counterpart.
Earlier on Wednesday, Rouhani described the current relations between Tehran and Ashgabat as much better than before, but at the same time urged that bilateral ties should develop further.