India's Modi Begins Landmark Visit to Sri Lanka
TEHRAN (Tasnim) - Narendra Modi began his trip to neighboring Sri Lanka, becoming the first Indian prime minister to visit the island nation in nearly three decades.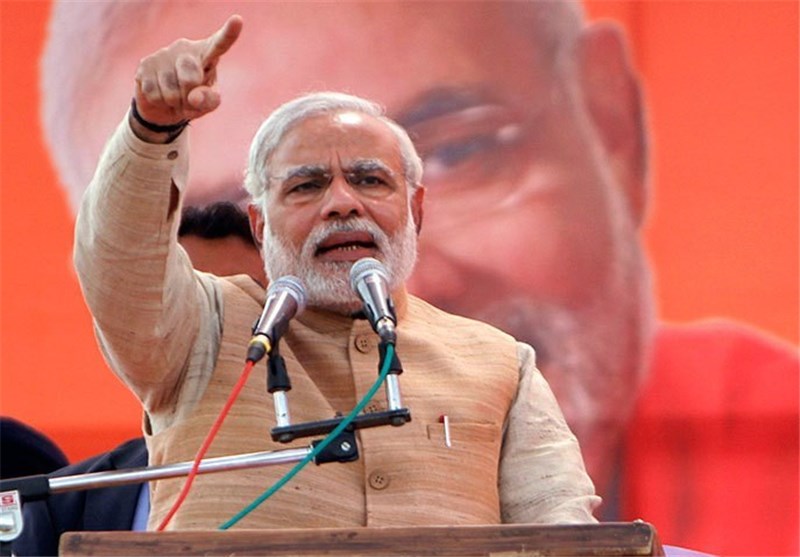 Modi is looking to reassert India's influence over Sri Lanka after its drift towards China.
The prime minister will hold talks with Sri Lanka's new President Maithripala Sirisena, who has promised to repair international ties damaged under his predecessor Mahinda Rajapakse's China-friendly regime, after a ceremonial welcome in Colombo, Sri Lanka's capital.
Modi will also address parliament and visit the Tamil-dominated northern Jaffna region on a visit that comes just weeks after Sirisena made India his first foreign port of call since his election in January.
While observers do not expect major policy initiatives so soon after the neighboring leaders' last meeting, it is seen as an important signal of a desire to reset ties, AFP reported.
"I am sure together we are going to script a golden chapter in the history of India-Sri Lanka relations," Modi said this week as he set off on a three-nation tour that has already taken him to the Seychelles and Mauritius.
He travels north on Saturday for a landmark visit to the Jaffna peninsula, home to the island's Tamil minority and which bore the brunt of a 37-year separatist war in which India was intricately involved.
Modi is expected to push for demilitarisation in the former war zone and more autonomy for minority Tamils who share close cultural and religious ties with those across the Palk Strait in Tamil Nadu.
Modi will be the first Indian prime minister to hold bilateral talks in Colombo since 1987, although several predecessors attended regional summits.
When Rajiv Gandhi visited in 1987, the then premier was famously assaulted with a rifle butt by a Sri Lankan naval rating while inspecting a guard of honor.