Iran Nuclear Talks to Go On in Belgium Monday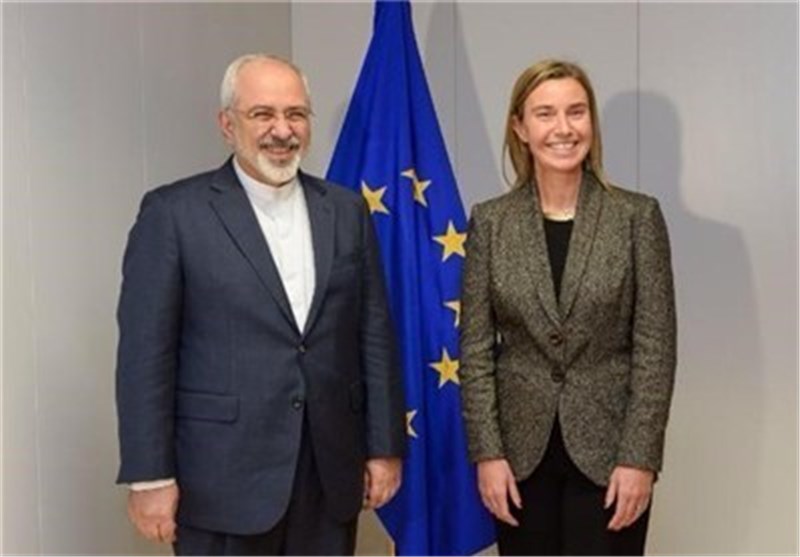 TEHRAN (Tasnim) – Iranian Foreign Minister Mohammad Javad Zarif is going to hold a series of high-profile meetings with European officials in the Belgian capital of Brussels on Monday as part of a new round of diplomacy that aims to nail down a lasting accord on Tehran's civilian nuclear program.
The top Iranian nuclear negotiator is planned to leave the Swiss city of Lausanne for Brussels to hold a meeting with his counterparts from the three European members of the Group 5+1 (Russia, China, the US, Britain, France and Germany), with which Iran is negotiating a comprehensive nuclear deal.
The EU announced earlier that High Representative for Foreign Affairs and Security Policy Federica Mogherini will host the upcoming meeting among Zarif and Germany's Frank Walter Steinmeier, France's Laurent Fabius, and Britain's Philip Hammond.
According to the EU, Mogherini will meet bilaterally with Foreign Minister Zarif at 17:15 local time, ahead of the planned meeting with other ministers.
"A written statement will be published at the end of meeting. The HRVP Federica Mogherini will also address the meeting during the press conference following the Foreign Affairs Council around 16:30 (in the Council press room)," the EU added.
The new round of diplomatic talks on Tehran's nuclear case kicked off in Lausanne on Sunday with a meeting between Head of the Atomic Energy Organization of Iran (AEOI) Ali Akbar Salehi and US Energy Secretary Ernest Moniz.
The negotiations are expected to run until March 20, before the start of the new Iranian year.
The Iranian team is led by Foreign Minister Mohammad Javad Zarif, while US Secretary of State John Kerry heads the American team.
Iran and the group of six countries are in talks to hammer out a final agreement to end more than a decade of impasse over Tehran's nuclear energy program.
On November 24, 2013, the two sides signed a six-month deal in the Swiss city of Geneva.
The Geneva deal (the Joint Plan of Action) came into effect in January 2014 and expired in July, when the parties decided to extend negotiations until November 24 in the hope of clinching a final deal that would end a decade of impasse over Tehran's peaceful nuclear energy program.
After failing to hammer out a lasting accord by the self-imposed November 24 deadline, the parties once again decided to extend the deadline for seven more months, until end of June 2015.