Iranian, British FMs Hold Talks in Brussels
TEHRAN (Tasnim) – Highest ranking diplomats from Iran and Britain in a meeting in the Belgian capital of Brussels discussed the bilateral relations between Tehran and London as well as the latest developments in the course of talks on Iran's nuclear case.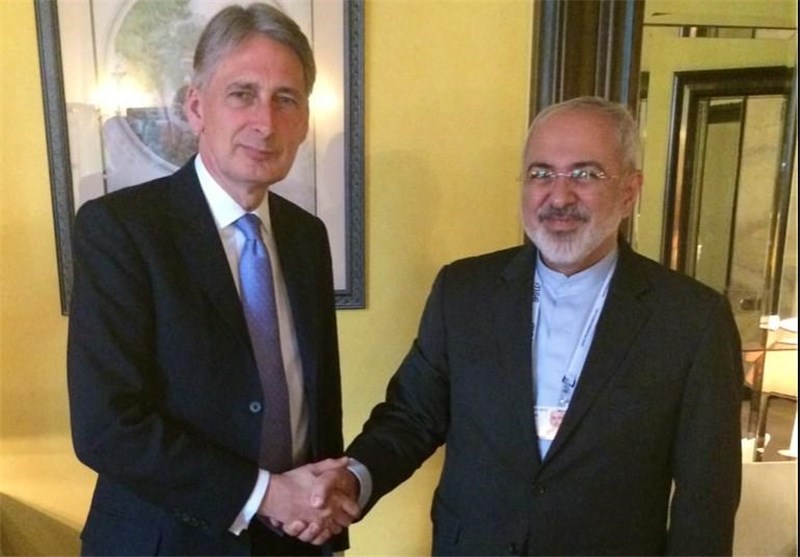 Iranian Foreign Minister Mohammad Javad Zarif and British Foreign Secretary Philip Hammond met in Brussels on Monday.
The two officials talked about the most recent regional developments and the process of nuclear negotiations between Tehran and the Group 5+1 (Russia, China, the US, Britain, France and Germany).
They both emphasized the need for "mutual efforts" to overcome disagreements while a June 30 deadline has been set to finalize all the technical details of a comprehensive accord.
Zarif and Hammond also underlined that the parties should make the most of the remaining time.
They further called for more consultation between Iran and the European Union, reviewed the latest status of Tehran-London ties and discussed the approaches to settle the problems in the way of diplomatic relations.
Iran and the group of six countries are in talks to hammer out a final agreement to end more than a decade of impasse over Tehran's nuclear energy program.
An Iranian lawmaker had announced earlier that Zarif and Hammond were to discuss the reopening of their respective embassies.
Abass Ali Mansouri Arani, head of Iran-Britain parliamentary friendship group, stressed the need for the reopening of embassies in Tehran and London, saying that current conditions cause many troubles for Iranian and British citizens.
Iran and Britain agreed in October 2013 to appoint non-resident chargé d'affaires as a first step toward reopening their respective embassies.