Ayatollah Khamenei: US in Dire Need of Talks with Iran
TEHRAN (Tasnim) – The US is the one that really needs dialog with Iran, Supreme Leader of the Islamic Revolution Ayatollah Seyed Ali Khamenei said, stressing that no one in Iran is opposed to settlement of the nuclear issue through diplomacy, unlike what the US president has claimed.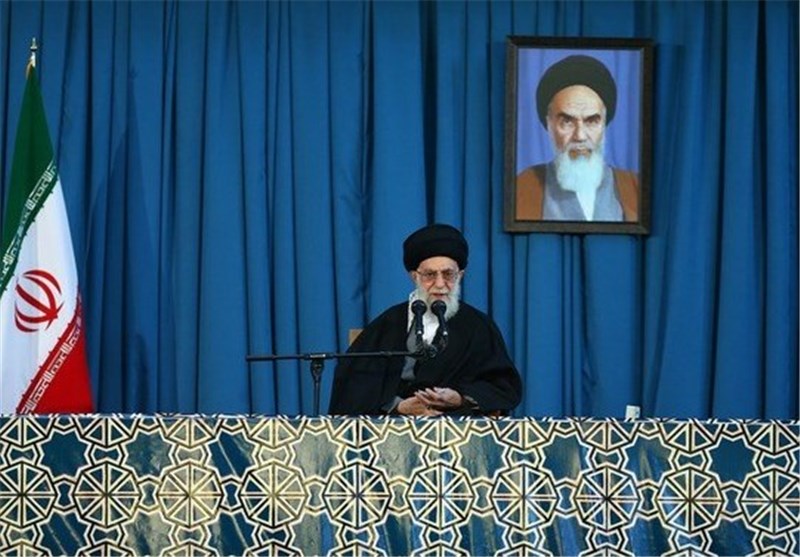 "They (Americans) need negotiation. The US is in dire need of negotiations, and the disagreements between the Americans do not mean that they don't need the talks," Ayatollah Khamenei said in an annual address in the northeastern city of Mashhad on the first day of the new Iranian year on Saturday.
Pointing to the US president's recent message to Iranian people, Ayatollah Khamenei said Obama's message contained "dishonest remarks" about the nuclear talks between Iran and six world powers.
In a Thursday video message directed at Iranians celebrating the new year festival of Nowruz, Obama said there are people in the US, in Iran and beyond who "oppose a diplomatic resolution" of the nuclear talks.
In reply, Imam Khamenei said, "There is no one in Iran who opposes settlement of the nuclear issue. What the Iranian nation rejects is giving in to the US bullying and imposition (of will)."
The Leader underlined that the Iranian nation, officials and negotiators will never accept the US bullying.
Elsewhere in his speech, Ayatollah Khamenei reiterated that talks with the US revolve only around the nuclear issues and nothing else, arguing that Washington is on a different wavelength from Tehran.
"We do not negotiate (with the US) on the regional issues, because their objectives are in contrast to ours. We call for domination of nations and calm, (whereas) they (Americans) seek insecurity."
"We have no talks at all (with the US) either on the internal issues, military weapons or the regional cases," the Leader pointed out.
Imam Khamenei further warned against a "US ploy" that requires Iran to sign a deal first, and entails the conditional removal of anti-Iran sanctions at a later stage.
"The removal of sanctions is part of the subject of negotiations, not of its results… Our officials have made it clear that removal of sanctions should occur without any delay when an agreement is reached," the Supreme Leader underscored.
Ayatollah Khamenei also dismissed a notion raised by the US that a possible deal should make Iran's decisions and concessions irreversible.
The Leader further highlighted the futility of threats and war rhetoric against Iran, stressing that the Iranian nation is not intimidated by the military threats or tougher sanctions.
Iran and the Group 5+1 (Russia, China, the US, Britain, France and Germany) are in talks to hammer out a comprehensive accord that would end more than a decade of impasse over Tehran's civilian nuclear activities.