Bahraini Court Extends Opposition Leader's Detention
TEHRAN (Tasnim) – A Bahraini court extended the detention of opposition leader Sheikh Ali Salman for almost a month despite massive protests and international calls for the Shiite cleric's immediate and unconditional release.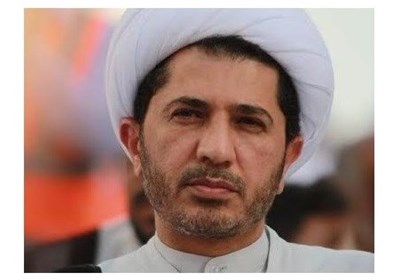 Sheikh Salman, the secretary general of Bahrain's main opposition bloc, al-Wefaq National Islamic Society, on Wednesday went on trial for the third time on alleged charges of plotting against the Al Khalifa regime.
The court issued an order to extend the prominent cleric's detention until April 22.
The trial of Sheikh Salman came after a number of prominent Shi'ite clerics in Bahrain voiced their outrage over his continued detention.
They described the Bahraini regime's move as "contrary to religion, ethics as well as internal and international regulations".
The clerics further called for Sheikh Salman's immediate acquittal of "bogus accusations", emphasizing that the decision would be in favor of the country's interests.
Tensions have been simmering in Bahrain ever since Sheikh Salman was detained.
The tiny Persian Gulf kingdom has been rocked by a popular uprising since 2011. The Manama regime has adopted repressive measures to silence those demanding an end to monarchy.