Tunisian Forces Kill 9 Militants in South before Solidarity March
TEHRAN (Tasnim) – Tunisian forces killed nine militants during a raid in a southern region as part of crackdown following the attack on the Tunis Bardo museum that targeted foreign tourists, an interior ministry official said on Sunday.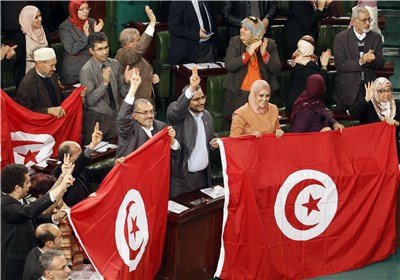 The operations late on Saturday in Gafsa region came hours before thousands of Tunisians were expected to join world leaders including French President Francois Hollande in a march of solidarity in Tunis.
"Our forces killed nine terrorists in a large operation in Sidi Aich in Gafsa. They also captured arms and explosives," said Interior Ministry spokesman Mohamed Ali Aroui.
Two gunmen killed 21 tourists at the Bardo Museum nearly two weeks ago, in one of the worst attacks in the North African country that mostly avoided violence since its 2011 uprising against autocrat Zine El-Abidine Ben Ali.
A fourth French national died of her wounds following the March 18 attack on the national museum, Rueters quoted the French president's office as saying in a statement on Saturday.
Japanese, Polish, Spanish and Colombian tourists were among those killed in the attack the government says was aimed at destroying Tunisia's vital tourism industry, which makes up around seven percent of its economy.
Islamic State in Iraq and the Levant (ISIL) terrorist group has claimed the Bardo attack though the Tunisian government has said fighters from a local group, Okba Ibn Nafaa, that has been mostly based the Chaambi Mountains bordering Algeria, were involved.
The Bardo attack underscored how terrorist loyalties are blurring as they seek a new North African front, especially in Libya, where political chaos and factional fighting has allowed the ISIL group to gain an outpost.