Iran Urges Immediate End to Attacks on Yemen
TEHRAN (Tasnim) – Iranian Foreign Ministry Spokeswoman Marziyeh Afkham deeply regretted the killing of innocent people in Yemen, and asked the international community to take necessary measures to stop the Saudi-led aggression.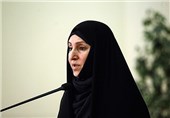 Saudi Arabia and its Persian Gulf Arab allies carried out military operations in Yemen, killing dozens of civilians in Sana'a, the capital, and other cities.
Expressing great regret over the death and injury of innocent Yemenis and destruction of the country's infrastructures, Afkham called on regional countries and the international community to encourage dialog in Yemen and the immediate cessation of the aggression.
"At this stage, all efforts should be focused on the termination of attacks and controlling the current crisis," she told the Tasnim News Agency on Sunday, reiterating that dialog is the only solution to the Yemeni crisis.
She further noted that "national unity" and "counter-terrorism" efforts should top Yemen's agenda.
In similar remarks on Thursday, Iranian Foreign Minister Mohammad Javad Zarif called for an immediate end to the air strikes on the Yemeni capital by Saudi Arabia and its regional allies, saying that such moves will achieve nothing for the aggressors.