Iran, Six Powers Conclude Plenary Ministerial Meeting in Lausanne
LAUSANNE (Tasnim) – Foreign ministers of Iran, Russia, China, the US, Britain, France and Germany wrapped up a plenary meeting in Lausanne on Monday morning in a final push for a preliminary framework accord on Tehran's nuclear program with an end-March deadline looming.
According to Tasnim dispatches, the ministerial session lasted for roughly one and half hours as the marathon negotiations in the Swiss city are reaching a climax.
In addition to Iranian Foreign Minister Mohammad Javad Zarif and US Secretary of State John Kerry, British Foreign Secretary Philip Hammond, French Foreign Minister Laurent Fabius, Germany's Frank-Walter Steinmeier, Russia's Sergei Lavrov, China's Wang Yi and the European Union Foreign Policy Chief Federica Mogherini gathered at a 19th-century hotel in Lausanne to break an impasse in the nuclear talks.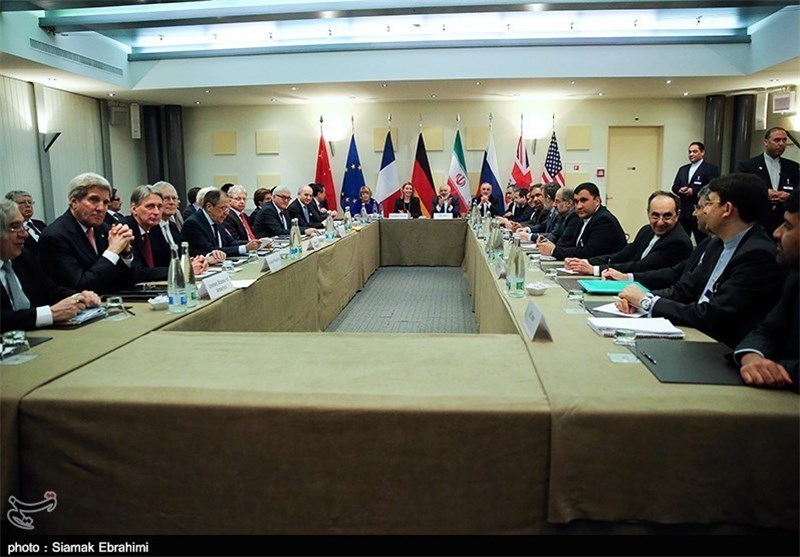 Following the plenary meeting, Britain's Hammond and China's Wang Yi started a bilateral meeting.
The parties have been working to agree on a preliminary framework accord by the end of March, to be followed by a comprehensive deal by June 30 that includes all technical details.
The long-awaited comprehensive deal aims to end more than a decade of impasse over Tehran's civilian nuclear activities.