Afghans Rally against Kabul's Support for Saudi Attack on Yemen
TEHRAN (Tasnim) – Protesters held demonstrations in Afghanistan's northern province of Balkh, demanding President Ashraf Ghani's resignation over his support for the Saudi-led offensive on Yemen.
Demonstrators in the city of Balkh, capital of Balkh province, condemned Ghani's supportive stance on a military campaign that Saudi Arabia and some of its allies have launched against Yemen.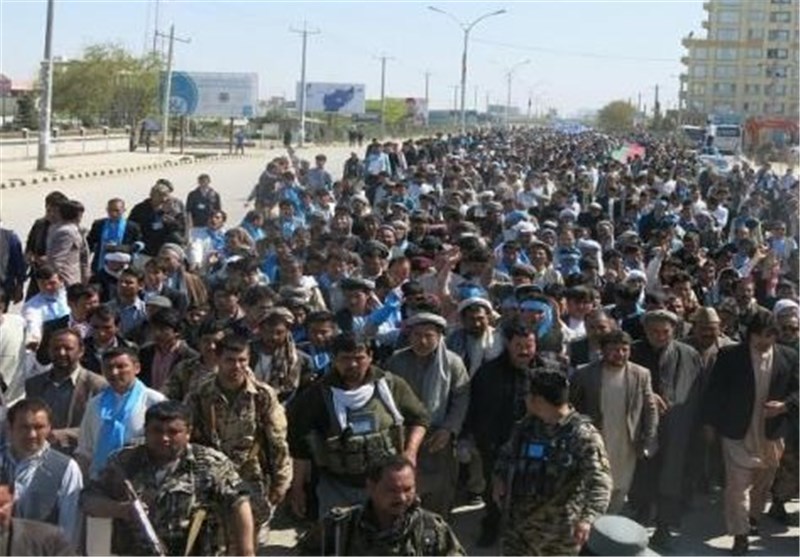 The marchers made it clear that the president's backing for the Saudi-led airstrikes on Yemen emanates from his personal views and egotism, stressing that the Afghan people have nothing to do with the presidential palace's position.
The outcry erupted after the Afghan presidential palace issued a statement on Wednesday in support of Saudi Arabia's military operation against Yemen.
On March 26, Saudi Arabia and some of its Arab allies began to militarily interfere in Yemen's internal affairs by launching deadly air strikes against the Houthi Ansarullah movement in an attempt to restore power to fugitive Yemeni President Abd Rabbuh Mansur Hadi, a close ally of Riyadh.
The Saudi-led coalition, including military forces from Qatar, the United Arab Emirates (UAE), Kuwait, Egypt, Sudan, Bahrain, Morocco, Jordan, and Egypt, has killed hundreds of civilians so far.
International agencies have expressed growing alarm over rising civilian casualties in Yemen.
Valerie Amos, the UN aid chief, said on Thursday she was "extremely concerned" about the fate of civilians trapped in fierce fighting after aid agencies reported that 519 people had been killed and nearly 1,700 injured in two weeks.
The UN children's agency reported this week that at least 62 children had been killed and 30 injured over the past week in Yemen.