Iran Ready to Cooperate with Oman on Yemen Crisis: Zarif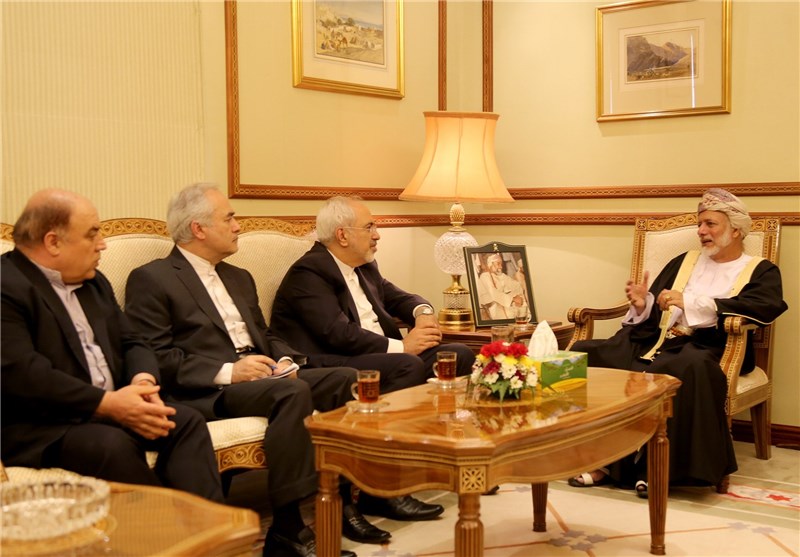 TEHRAN (Tasnim) – Iranian Foreign Minister Mohammad Javad Zarif on Wednesday reiterated the need for efforts to stop the ongoing crisis in Yemen, saying that Tehran is ready to work with Muscat to help resolve the issue.
Zarif, who is in Muscat to confer with Omani officials on regional issues, welcomed the role Oman plays in important regional issues including Yemen's crisis, emphasizing that Iran is ready to cooperate with Muscat in this regard.
The Iranian minister made the remarks in a meeting with Oman's Minister Responsible for Foreign Affairs Yusuf bin Alawi bin Abdullah in Muscat.
"All countries are responsible for restoring stability and peace to the country," Zarif reminded.
The Iranian top diplomat also stressed that Yemeni-Yemeni talks are necessary to resolve the crisis in the Arab country.
He further underscored the need for providing aid to those displaced or injured in Yemen.
Bin Alawi, for his part, urged for further attention to developments in Yemen, saying that dialogue is the main path toward settling the problems there.
On the sidelines of the meeting, Zarif also hailed the role of Oman's Sultan Qaboos bin Said al-Said in resolving certain regional issues, especially the issue of Iran's nuclear energy program, noting that the recent round of nuclear negotiations between Iran and world powers kicked off with Oman's special role and Omani monarch's special mediation.
Back on April 2, Iran and the sextet reached a framework agreement on Tehran's nuclear program after intensive negotiations in Switzerland, with both sides committed to push for a final, comprehensive accord until the end of June.
Zarif said Iran and the Group 5+1 (the five permanent UNSC members plus Germany) are interested to gather in Oman again, but the place for the next round of nuclear negotiations is yet to be decided.
"I think all of the delegations are interested in visiting Muscat again, but no decision has been made on the issue yet," Zarif said in reply to a question about the venue of the next round of nuclear talks between Tehran and G5+1.
Iran's top diplomat also expressed the hope that future nuclear negotiations would bear fruit with the political wills of all sides.
At the end of his trip to Oman, Zarif is slated to leave for Pakistan with the aim of discussing Tehran-Islamabad ties, ways to boost cooperation between the two neighboring countries, and examining the latest regional and international developments.