Saudi Arabia "Loser" of Yemen War: Senior Iranian Cleric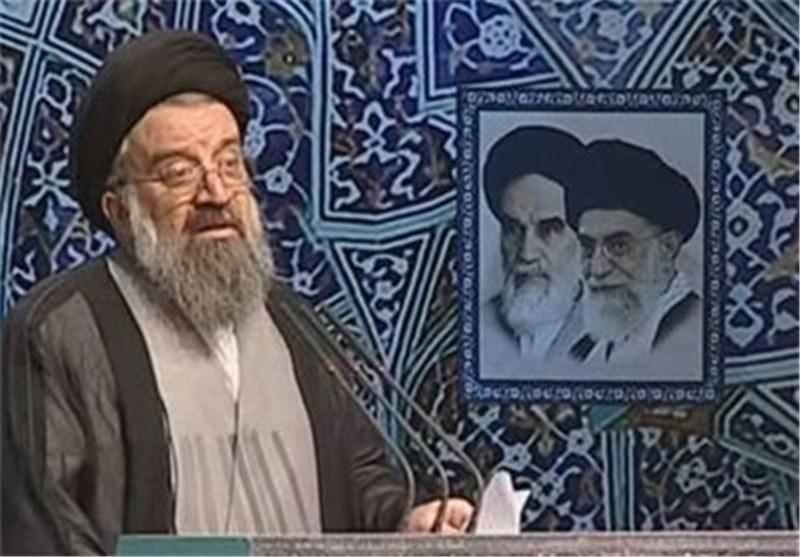 TEHRAN (Tasnim) – Tehran's Provisional Friday Prayers Leader Ayatollah Ahmad Khatami denounced the ongoing Saudi-led aggression against Yemen as a "war crime", and underlined that Riyadh would definitely lose in the war it has waged against Sana'a.
Addressing a large congregation of worshippers here in Tehran on Friday, Ayatollah Khatami referred to attacks on Yemen by Saudi Arabia and its Arab allies, and stressed, "No doubt that you (Saudi Arabia) will not achieve your goal in this battlefield."
He went on to say that the only thing Riyadh would gain by waging the war is the destruction of an Islamic country, which is what the Zionist regime of Israel desires.
On March 26, Saudi Arabia and some of its Arab allies began to militarily interfere in Yemen's internal affairs by launching deadly air strikes against the Houthi Ansarullah movement in an attempt to restore power to fugitive Yemeni President Abd Rabbuh Mansur Hadi, a close ally of Riyadh.
The Saudi-led coalition, including military forces from Qatar, the United Arab Emirates (UAE), Kuwait, Egypt, Sudan, Bahrain, Morocco, Jordan, and Egypt, has killed hundreds of civilians so far.
Comparing Saudi's aggression on Yemen with Israel's war on Gaza, Ayatollah Khatami stated that as Israelis were defeated in that war, Saudis would also definitely lose in this one.
"You (Saudis) are not more powerful than Zionists, and Gaza is also very smaller than Yemen," he stressed, reiterating that Riyadh's failure in the war is already crystal clear.
"Retreat before it is too late... stop killing the oppressed people and beware that the world's justice-seekers will consider Saudi regime and its authorities as war criminals, and call for their trial and punishment," Ayatollah Khatami emphasized.
Earlier on Thursday, Supreme Leader of the Islamic Revolution Ayatollah Seyed Ali Khamenei had also said that Saudis will definitely be struck back in this issue and they will be defeated.
"This action (of the Saudis) is not acceptable in the region and I warn that they will certainly lose interests," the Leader said in Tehran.