Iran's FM: Nuclear Deal at Hand, Tough Tasks Lie Ahead
TEHRAN (Tasnim) – Iranian Foreign Minister Mohammad Javad Zarif said Tehran and six world powers are very close to a lasting nuclear agreement, but also noted that two difficult jobs remain, namely drafting the text of the deal and changing the other side's mindset on sanctions.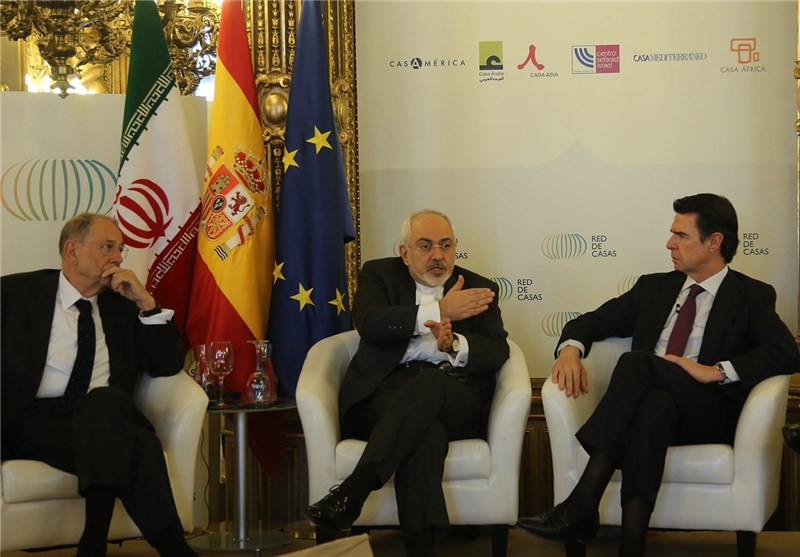 Speaking in a meeting with Spanish officials in Madrid on Tuesday, Zarif described the drafting of the text of the long-awaited nuclear agreement between Tehran and the Group 5+1 (Russia, China, the US, Britain, France and Germany) as a laborious task.
Zarif announced that deputy foreign ministers and experts from Iran and the six powers will convene on April 21 to start drafting the deal.
"This is a hard task, particularly given the presence of multiple jurists that will be there to weigh up the accuracy of the words (in the text)," he added.
The second and main problem, Zarif noted, is that the US and some of the Europeans have to change their mindset on the anti-Iran sanctions, meaning that they should scrap the notion of sanctions being an asset.
The top Iranian diplomat also underlined that implementation of a possible nuclear accord, verification of the measure under the deal, and removal of the anti-Iran sanctions should take place all at once.
In their latest round of talks, on April 2, Iran and the Group 5+1 (also known as the P5+1 or E3+3) reached a framework nuclear agreement after more than a week of intensive negotiations in Lausanne, Switzerland, with both sides committed to push for a final, comprehensive accord until the end of June.
The framework provides a series of solutions that will be the basis of a comprehensive joint plan of action.