North Korea Warns US Envoy of 'Bigger Mishap' than Knife Attack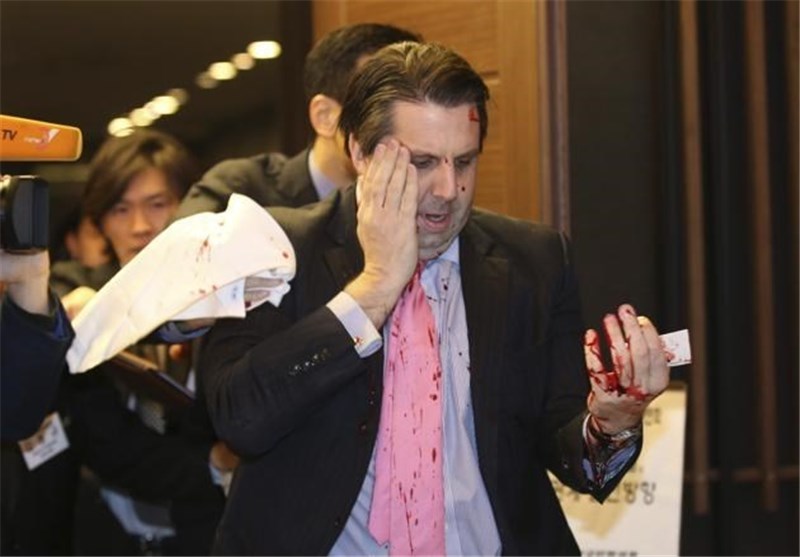 TEHRAN (Tasnim) – A North Korean propaganda unit said the US ambassador to South Korea could face a "bigger mishap" than the knife attack to his face last month if he does not stop insulting North Korea with "laughable" accusations.
US envoy Mark Lippert said in a speech on Wednesday that if North Korea improves its human rights record and takes steps to end its nuclear program, it will be rewarded with prosperity and better ties with the outside world, including the United States.
The North's Committee for the Peaceful Reunification of Korea said Lippert's remarks were proof that Washington was intent on hostility.
"Lippert needs to drop the bad habit of rashly engaging in scheming chatter distorting the truth and instigating war by taking issue with us," the committee said in a commentary published on Thursday on the Uriminzokkiri web site.
"Otherwise, next time, he could face a bigger mishap than getting cut in the cheek by a South Korean citizen," it said.
The North frequently rails at the United States, the South's biggest ally, accusing it of preparing for imminent invasion.
The US Embassy in Seoul did not have any immediate comment, according to Reuters.
Lippert was slashed in the face with a fruit knife by a South Korean man with a history of erratic behavior at a breakfast forum in central Seoul that left a gash that required 80 stitches. He also suffered injuries to his arm.
"It is unbearable insult and mockery against us and a laughable and brazen charge that cannot be overlooked," the North's agency said.
South Korean police charged Lippert's attacker with attempted murder. He was not charged with any North Korea-related crime after being questioned over his multiple visits.
North and South Korea are technically still at war after their 1950-53 conflict ended in a truce, not a peace treaty.
North Korea previously called the attack "deserved punishment" but denied any role in it.