President Highlights Iranian Army's Role in Regional Peace, Stability
TEHRAN (Tasnim) – The Iranian Army contributes to peace and stability in the region, President Hassan Rouhani said on Saturday, urging certain other regional countries to learn from the peaceful nature of Iran's Army and end aggression on the other nations.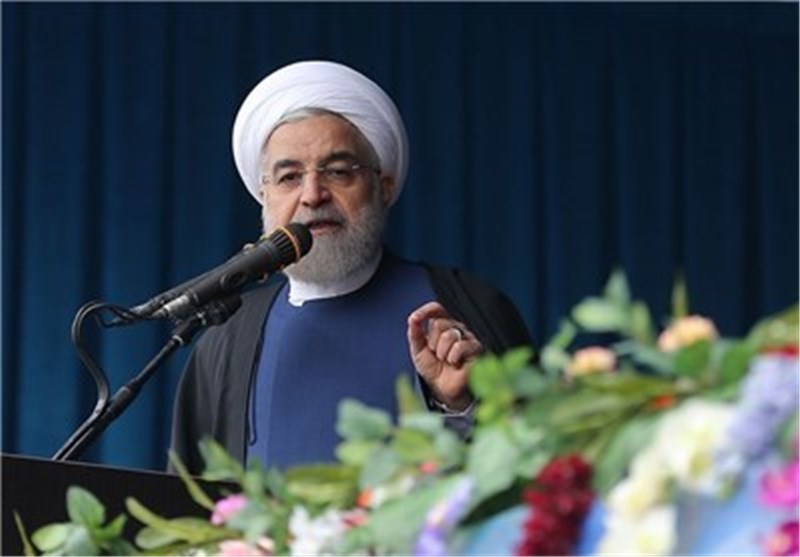 "Today, the Army is a source of calm for the (Iranian) nation and above that, for the regional nations," President Rouhani said in an address to the Iranian military units during a ceremony held in Tehran to mark the country's National Army Day.
He made it clear that the Islamic Republic's military doctrine is based on defense and deterrence, stressing that such deterrent power contributes to the establishment of peace and security in Iran and the region.
President Rouhani also underlined that Iran's naval presence in the high seas is not a source of concern for any country, and noted, "Such presence is for the security of the littoral countries and shipping as well as the security of (international) waterways."
He also called on certain countries in the region to learn from Iranian Army's contribution to peace and stability and stop attacking innocent civilians of other nations. "In Yemen, strikes on the oppressed do not bring honor to anybody," he added with a hint of criticism of the Saudi-led military campaign against Yemen.
Saudi Arabia and its allies started their deadly attacks on Yemen on March 26 in a bid to restore power to the fugitive former President Abd Rabbuh Mansour Hadi, a close ally of Riyadh. Yemeni sources say the air strikes have killed 2,600 people so far.
Following President Rouhani's speech, different units of the Iranian Army held massive military parades to mark the National Army Day.
The ceremony was held at the mausoleum of the late founder of the Islamic Republic of Iran, Imam Khomeini, south of Tehran.