Aftershocks Rattle Nepal after Worst Quake in Decades
TEHRAN (Tasnim) - Nepal is scrambling to save thousands of people who remain buried under rubble following its worst earthquake in decades, as dozens of aftershocks continue to rumble around the quake's epicenter near the nation's capital.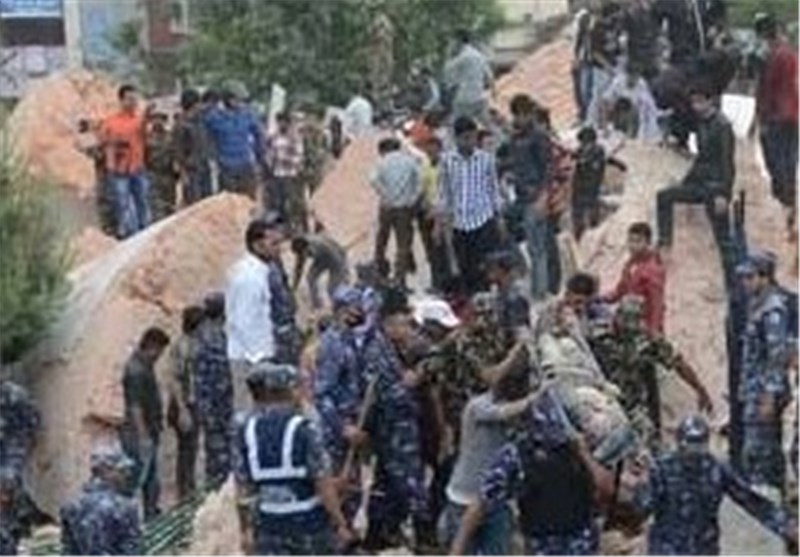 On Saturday the Nepalese government declared a state of emergency after a 7.8-magnitude earthquake struck the Himalayan nation, killing hundreds of people and touching off a deadly avalanche on Mount Everest.
Officials said that so far more than 1,805 people were known to have died in the powerful quake that struck 80km east of Pokhara on Saturday, about halfway between the town and the capital Kathmandu.
The aftershocks continued into the night, and the toll was expected to rise significantly as the scale of the disaster became clear.
Brian Baptie, of the British Geological Survey, told Al Jazeera on Sunday that aftershocks of a magnitude of up to 6.8 - large quakes in their own right - could continue rumbling in the area "for many weeks".
Emergency workers and army and police personnel, with the help of residents and bystanders, continued to work tirelessly throughout Saturday night to clear the rubble from these sites and to rescue any survivors from under the debris, although bodies were mostly being pulled out.
As night fell the country of 27 million, tens of thousands of people stayed outdoors in fear that subsequent aftershocks may cause further damage.
Of the bodies retrieved so far, 634 were reported dead in the Kathmandu valley and at least 300 more in the capital, a police spokesman told Reuters news agency.
A further 36 fatalities were reported in northern India, 12 in Tibet and four in Bangladesh.
Photos posted on Twitter showed buildings left in rubble, large cracks along roads and worried residents on the streets.
The earthquake destroyed many historical landmarks, including the UNESCO World Heritage temples at Basantapur Durbar Square and the Dharara tower, both in central Kathmandu.