Curfew Continues in Baltimore, Arrests Made
TEHRAN (Tasnim) - Hundreds of Baltimore residents rallied peacefully Saturday following the arrest a day earlier of six police officers in the death of Freddie Gray.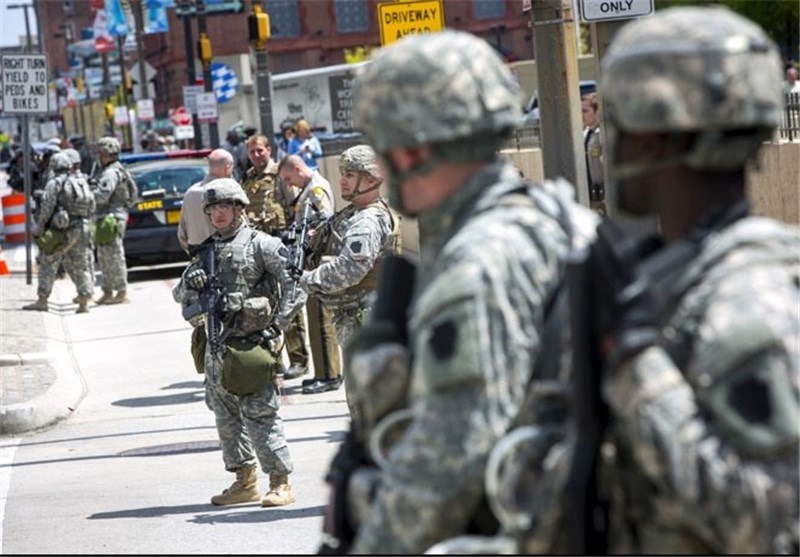 A smaller number remained in the streets when the city curfew went into effect at 10 p.m., CNN reporters in Baltimore said. Some protesters were arrested a brief time later, CNN's Nick Valencia said.
Community members had urged the curfew, which has started Tuesday night, be ended.
Brandon Scott, a Baltimore City Council member, predicted people would defy the curfew as they have in past nights. Police detained 53 people late Friday, including 15 who violated curfew.
Scott said he opposed the curfew extension, partly because of its economic impact.
Earlier Saturday, marchers converged on Baltimore City Hall after trekking from the Gilmore Homes housing project, where Gray was arrested, as similar gatherings were set for various cities from Boston to Beverly Hills.
Marchers -some carrying signs with messages such "Justice for Freddie Gray" and "It is right to rebel"- moved peacefully through the streets of Baltimore to War Memorial Plaza outside City Hall, where hundreds of others gathered for the block-party-like rally.
Six police officers were charged in the death of Gray, Baltimore City State's Attorney Marilyn Mosby said Friday, describing what she believes happened April 12, when Gray was arrested.
The 25-year-old died after suffering "a severe and critical neck injury" while being transported "handcuffed, shackled by his feet and unrestrained" inside a police van, she said. It is against police policy to transport a prisoner without proper restraints such as a seat belt.
The officers face various charges that could lead to decades in prison.