Hollande to Sell French Fighter Jets on Start of Persian Gulf Tour
TEHRAN (Tasnim) - French President François Hollande arrived in Qatar on Monday for the start of a two-day Middle East tour designed to wrap up the sale of French fighter jets and showcase his country's ever closer ties with the Persian Gulf monarchies.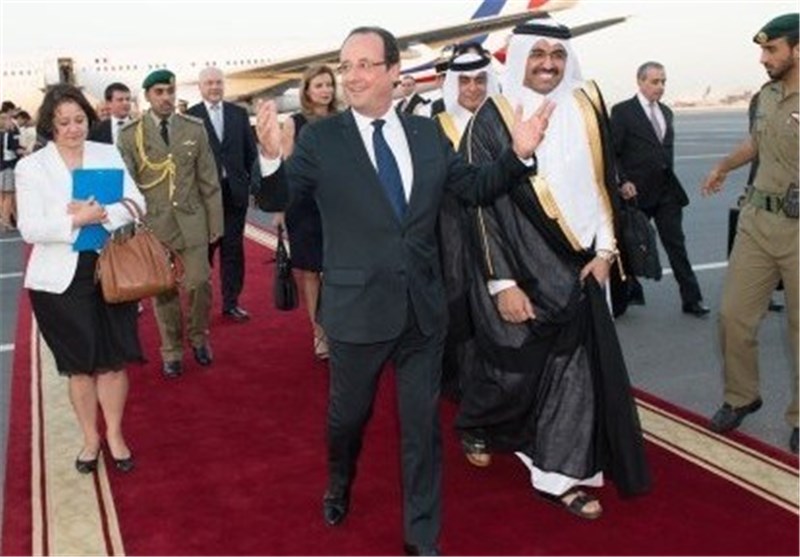 Hollande was due to hold talks with Qatar's Cheikh Tamim ben Hamad al-Thani in Doha and attend a ceremony to mark the sale of 24 French Rafale fighter jets to the oil-rich Persian Gulf state.
A second, confidential contract will involve the training of 36 pilots and around one hundred mechanics.
Hollande will then head to Saudi Arabia, where he will be the guest of honour at a summit of the six-member [Persian] Gulf Cooperation Council on Tuesday – a first for a Western leader.
The unprecedented event has led some in the French press to refer to the French president as "François of Arabia", after the legendary writer and World War I officer T. E. Lawrence, more popularly known as "Lawrence of Arabia".
The €6.3 billion Rafale contract marks yet another major success for France's arms industry, coming hot on the heels of further multi-billion euro sales of the flagship fighter jet to Egypt and India.
France may soon be celebrating again as negotiations with the United Arab Emirates appear to be headed in the "right direction", according to Foreign Minister Laurent Fabius.
Brushing aside concerns about client countries' rights abuses, France has consistently hailed the Rafale sales abroad as a success for both the jets' manufacturer, Dassault, and French diplomacy.
Experts say that aside from the fighter jets' proven successes in combat zones like Afghanistan, Libya or Iraq, French policy in the Middle East has played a significant role in securing the sales, France24 reported.
"It's more specific to the Persian Gulf countries which appreciate France's coherence" in its foreign policy, said Bruno Tertrais of the Paris-based Foundation for Strategic Research think tank.