France May Scuttle Mistral Ships Rather Than Fulfill Russian Contract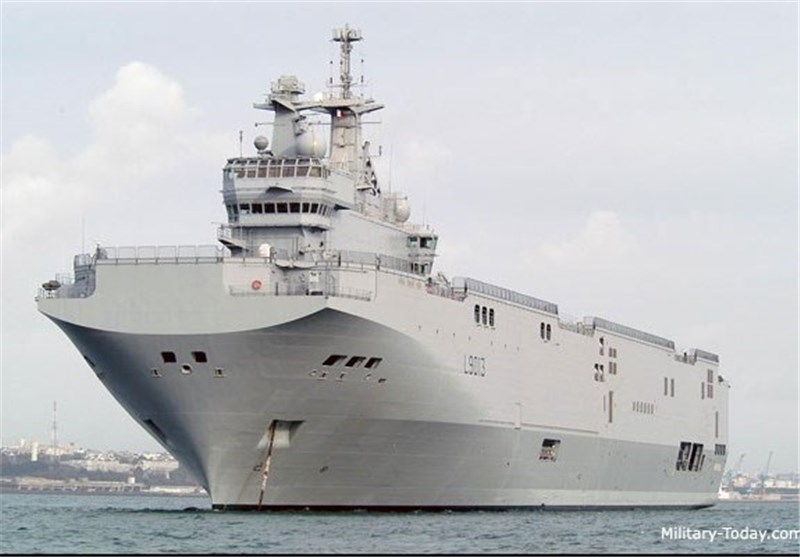 TEHRAN (Tasnim) - The Mistral helicopters carriers which were supposed to be delivered to Russia are causing the French a headache. However, rather than handing them over, the French government may send them to the bottom of the sea, if the contract is canceled.
France was supposed to have received €1.12 billion ($1.25 billion) from Moscow for the sale of two state-of-the-art warships. However, under pressure from the US and EU the sale was postponed, perhaps indefinitely.
An article in Le Figaro on Wednesday says that Paris may have to resort to sinking the helicopter carriers if the government refuses to honor the contract and deliver them to Russia. The first vessel, the Vladivostok, should have been handed over in November, but French President Francois Hollande said it would be postponed "until further notice."
"Among the possible course of actions which is being considered by the French government is the possibility of the helicopter ships being destroyed. They will be dismantled, remodeled or sunk in the open sea," the French newspaper wrote, citing an unnamed officer, who is well informed about the current situation surrounding the warships.
The reports brought fury from a high-ranking French military official, who told the newspaper that the possibility of the ships being destroyed was "unacceptable" due to the efforts put in by the shipbuilders at Saint-Nazaire, one of France's biggest shipyards.
Le Figaro added that plans to re-equip the ships and adapt them for the French Navy were "unlikely" as they had been specially-designed to coincide with the needs of the Russian Navy. If the vessels were to be re-fitted, the total bill could run into hundreds of millions of euro.
Russia says it is not opposed to France selling the vessels to a third party. Le Figaro says that potential clients include, "Canada, a northern country and Egypt."
Russian President Vladimir Putin has said Moscow just wants to be paid back what it is owed, while his French counterpart, Hollande, has reportedly agreed to this.
"If we cannot deliver the Mistral to Russia, I do not see any reason why we cannot return what they have paid up front," Hollande said, according to Le Figaro.
The French publication also added that Paris may have to pay Moscow in the region of €300 million in compensation for a breach of contract, RT reported.
If Paris does not fulfill its end of the bargain, it will have to pay back this sum as well as compensation, which could total €300 million ($330 million), according to French government sources.
The decision by the French government is causing concern amongst French business leaders, who believe Paris' inability to fulfill the contracts could hurt the economy in the long run.