Iran Warns US, Saudis against Disruption to Relief Aid for Yemen
TEHRAN (Tasnim) – Iran's Defense Ministry stressed that the US and Saudi Arabia will be held accountable for any disturbance to the Islamic Republic's relief aid for the people of Yemen, as an Iranian cargo ship is carrying humanitarian supplies for war-hit Yemenis.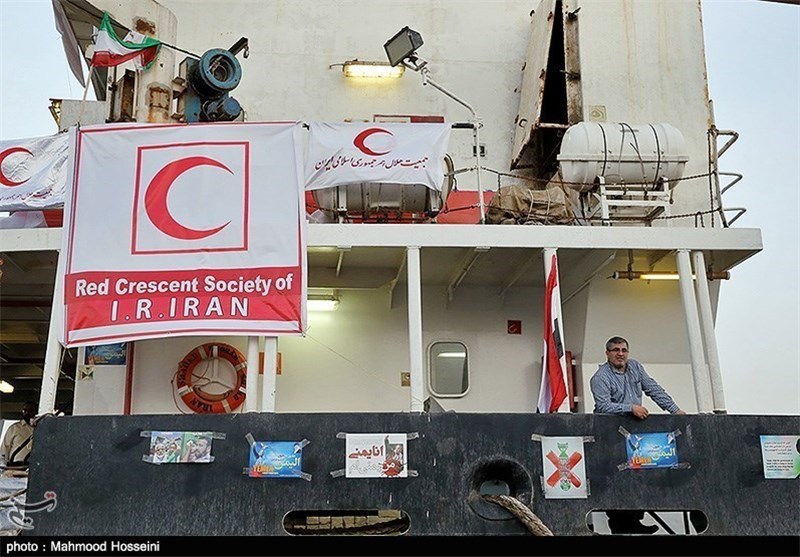 The Al Saud regime and the US will be to blame for the consequences of "any provocative move and vicious adventurism in the course of sending relief aid to the people of Yemen," Iran's Defense Ministry said in a statement on Wednesday.
It came in response to a warning by the Pentagon which has urged a change in the course of Iran's Yemen-bound aid ship, saying the vessel should head to Djibouti where the United Nations is overseeing humanitarian deliveries.
"We call on the Iranians to do the right thing here and deliver their humanitarian aid in accordance with UN protocols which is through the distribution hub that's been established in Djibouti," a Pentagon spokesman, Colonel Steven Warren, said on Tuesday.
In its statement, Iran's Defense Ministry reiterated that the cargo ship contains only medical aid and foodstuff for Yemenis.
It also slammed as "illogical" the US call for a change in the Iranian ship's itinerary, noting that there is no guarantee that the supplies will be delivered to the Yemeni people immediately.
"If international organizations, particularly the United Nations, are really after helping the oppressed people of Yemen, they should devise the necessary plans to stop the Al Saud's brutal attacks completely," it added.
Condemning the Saudi-led military campaign on Yemen, the statement further said, "The US is an accomplice of war criminals by supporting the genocide in Yemen."
The statement came after Iran's Nejat cargo ship, carrying 2,500 tons of humanitarian aid, left Iran for the Yemeni port of Hodeida on Monday evening, as a five-day truce in the Arabian Peninsula country began on Tuesday.
The humanitarian assistance is to relieve the pains of Yemenis who have come under fierce air strikes by a Saudi-led coalition for some seven weeks.
On April 28, an Iranian airplane carrying aid and medicine was prevented to enter the Yemeni airspace by Saudi fighter jets in combat air patrol.
A week later, Saudi fighter intercepted another Iranian aid plane in the Yemeni air space and prevented it from landing in Sana'a airport by bombing the runway.
The Saudi war on Yemen, which began on March 26, has killed more than 3,500 people and left some 6,200 others injured.
The Saudi-led coalition, which seeks to restore power to the fugitive former President Abd Rabbuh Mansour Hadi, includes eight other Arab states and is receiving logistical support from the US, Britain and France.