Iran's Larijani Calls for Continued Efforts for Eradicating Terrorism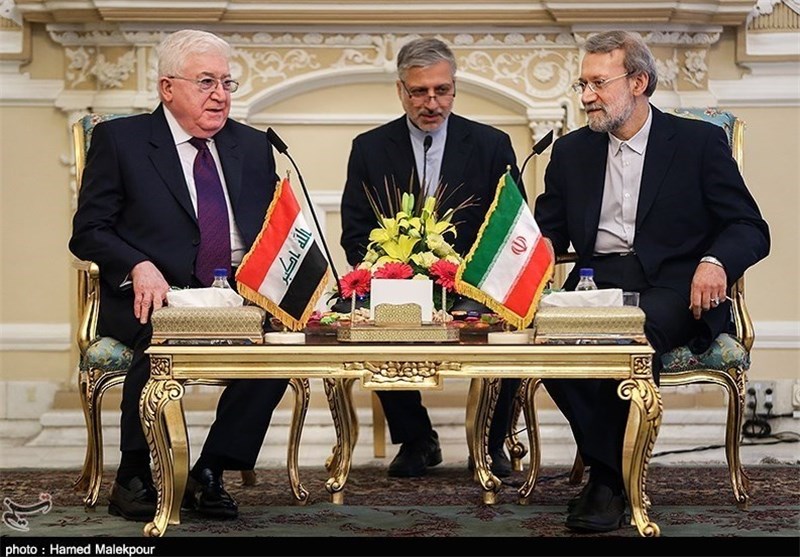 TEHRAN (Tasnim) – Speaker of Iranian Parliament Ali Larijani referred to terrorism as a common international problem, and urged that anti-terror efforts should go on until the eradication of the threat.
"Today, terrorism has gone beyond regional borders and turned to a scourge for the international community," Larijani said in his Wednesday meeting with the visiting Iraqi President Fuad Masum in Tehran.
"All countries should admit the undeniable reality that terrorism is a common international problem," he added.
He urged the international community to develop and implement a macro plan to fight terrorism, saying that it is not possible to eradicate the problem by sticking to "passive and tactical" measures.
Larijani further hailed the "important" achievements of the Iraqi nation and government in their fight against the Islamic State in Iraq and the Levant (ISIL) terrorist group, but at the same time noted that the combat should go on until dangerous terrorist groups are completely eliminated.
Masum, for his part, appreciated Iran's supports for the Iraqi people in the campaign against Takfiri terrorists, saying that Iran was the first country that spared no effort to help the Arab country.
The Iraqi president arrived at Tehran's Mehrabad Airport Tuesday at the head of a high-ranking delegation including the country's tourism, environment and trade ministers.
Masum, who is visiting Iran at Iranian President Hassan Rouhani's invitation, was formally received by his Iranian counterpart at the Saadabad Palace, northern Tehran, on Wednesday morning.
On the first day of his three-day trip, the Iraqi head of state met with the Supreme Leader of the Islamic Revolution Ayatollah Seyed Ali Khamenei.
He also held meetings with his Iranian counterpart President Rouhani and Secretary of Iran's Supreme National Security Council Ali Shamkhani.
As two neighboring Muslim countries, Iran and Iraq have sought to enhance bilateral ties in various political, economic, cultural, and defense areas.