Bombings Kill 4, Injure 19 in, around Iraqi Capital
TEHRAN (Tasnim) - At least four people have reportedly been killed and more than a dozen others wounded when separate bomb explosion struck residential areas in and around the capital, Baghdad.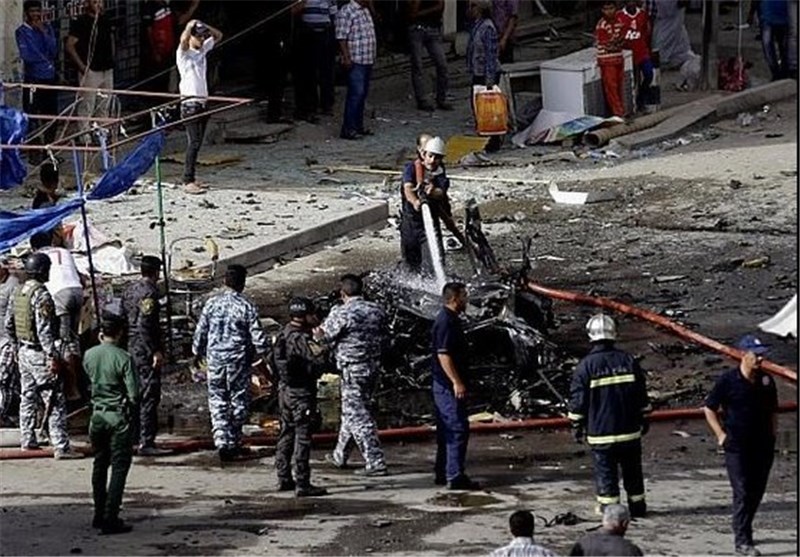 A police source, speaking on condition of anonymity, said one civilian lost life and five others sustained injuries when a bomb went off close to a restaurant in Sheikh Omar neighborhood of central Baghdad on Saturday, the Arabic-language satellite television network, al-Baghdadia, reported.
Security forces immediately cordoned off the site of the attack, and ambulance workers ferried the wounded to hospital to receive medical treatment.
Earlier in the day, three police officers were injured when a bomb attack took place in the town of Tarmiyah, situated about 50 kilometers (30 miles) north of Baghdad, Press TV reported.
There was no immediate claim of responsibility for the attacks. However, Iraqi officials usually blame such attacks on the ISIL Takfiri terrorists.
On Friday, two civilians were killed and seven others injured when a bomb exploded at a popular market in the city of Madain, located 32 kilometers (20 miles) southeast of Baghdad.
The development came on the same day as one civilian lost life and four others were wounded when an explosion ripped through a market, where cattle and sheep are bought and sold.
The UN Assistance Mission for Iraq (UNAMI) says a total of 812 Iraqis were killed and another 1,726 were injured in acts of terrorism, violence and armed conflict in April. A great portion of the fatalities was recorded in Baghdad, where 319 civilians were killed.
Northern and western parts of Iraq have been in chaos since the Takfiri ISIL terrorists started their campaign of terror in early June 2014. The terrorists are in control of the city of Mosul and they have swept through parts of the country's heartland.
Since then, Iraq's army has been joined by Kurdish forces, Shiite volunteers and Sunni tribesmen in operations to drive the terrorists out of the areas they have seized.