Officer Caught on Video in Texas Pool Party Incident Resigns
TEHRAN (Tasnim) – A white police officer recorded on video pushing a black girl to the ground at a North Texas pool party resigned from the police force Tuesday.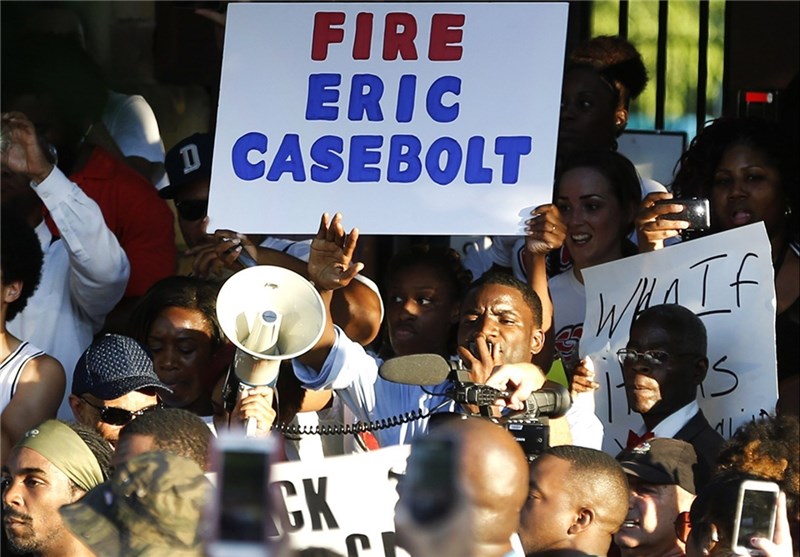 Officer David Eric Casebolt's actions were "indefensible," McKinney Police Chief Greg Conley said at a press conference after the officer submitted his resignation. But Casebolt was not pressured to quit the force, Conley said.
A teenager at the party posted a video online showing the officer pushing a girl to the ground and brandishing his gun to other black teens when officers responded last Friday to calls about the pool party at a community-owned McKinney swimming pool.
The 41-year-old former Texas state trooper and 10-year veteran of the McKinney force was put on administrative leave after the incident. His lawyer, Jane Bishkin of Dallas, confirmed Tuesday he had quit the force.
Conley said a review of the video showed that "our policies, our training and our practices do not support his actions," the Associated Press reported.
Twelve officers responded to the report of fights and a disturbance at the pool party at the Craig Ranch North Community Pool in an affluent area of western McKinney. "Eleven of them performed according to their training," Conley said. Casebolt did not, he said.
"He came into the call out of control and the video showed he was out of control during the incident," Conley said.
Casebolt's actions are under investigation and no decision has been made whether charges will be filed against him, Conley said. Charges of interfering with an officer and evading arrest against the only man arrested during Friday's incident have been dropped, Conley said. Everyone else detained was released.
Bishkin declined to say where Casebolt is now and said the officer had received death threats. The attorney said she would release more information at a news conference Wednesday.
The incident prompted criticism of the affluent suburb of McKinney north of Dallas, which is among the nation's fastest growing cities, has highly regarded public schools and was ranked by one publication as America's best place to live.
People who demonstrated this week at a McKinney school compared the city to Baltimore and Ferguson, Missouri, where use of force by police triggered widespread protests and violence.