White Man Arrested in Slaying of Nine Blacks at South Carolina Church
TEHRAN (Tasnim) – A young white man suspected of shooting nine black people dead after spending an hour with them in Bible study at a historic African-American church in South Carolina was arrested on Thursday, a day after a massacre authorities say was motivated by racial hatred.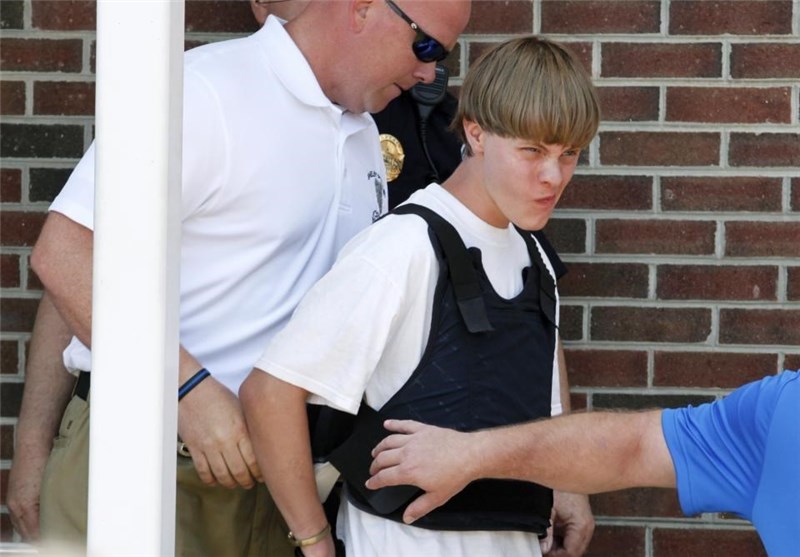 The mass shooting set off an intense 14-hour manhunt that ended with 21-year-old Dylann Roof arrested in a traffic stop in a small North Carolina town, 220 miles (350 km) north of Charleston, where the church rampage occurred, officials said.
Roof, who an uncle said received a gun as a 21st birthday present in April and whose social media profile suggests a fascination with white supremacy, waived his right to extradition and was flown back to South Carolina hours after his arrest.
He is due for a bail hearing on Friday but will appear by video link from the Charleston-area detention center where he was jailed, Major Eric Watson, a Charleston County Sheriff's Office spokesman was quoted by Reuters as saying.
Wednesday's gun violence at the nearly 200-year-old Emanuel African Methodist Episcopal Church follows a year of turmoil and protests over race relations, law enforcement and criminal justice in the United States, stemming from a string of police slayings of unarmed black men.
Four pastors, including Democratic state Senator Clementa Pinckney, 41, were among the six women and three men shot dead at the church nicknamed "Mother Emanuel."
The church was burned to the ground in the late 1820s, after plans of a slave revolt drafted by one of its founders were discovered. It was later rebuilt.
The gunshot victims ranged in age from 26 to 87. Three who were present survived the rampage unscathed, including a 5-year-old who, according to CNN, avoided being shot by playing dead.
CNN also broadcast a Snapchat video taken from inside the church during the study session, which appeared to show Roof before the massacre.
"The fact that this took place in a black church obviously raises questions about a dark part of our history," said US President Barack Obama. "Once again, innocent people were killed in part because someone who wanted to inflict harm had no trouble getting their hands on a gun."
The US has been shaken by a string of shootings in recent years, including the 2012 massacre at Sandy Hook Elementary School, where a gunman killed 20 children and six adults. But Democratic-led efforts to tighten the nation's gun laws failed after that incident.