Iran Ready for Close Cooperation with IAEA: Shamkhani
TEHRAN (Tasnim) – Secretary of Iran's Supreme National Security Council (SNSC) Ali Shamkhani on Thursday expressed the country's preparedness to resolve the outstanding issues about its civilian nuclear program through close cooperation with the International Atomic Energy Agency (IAEA).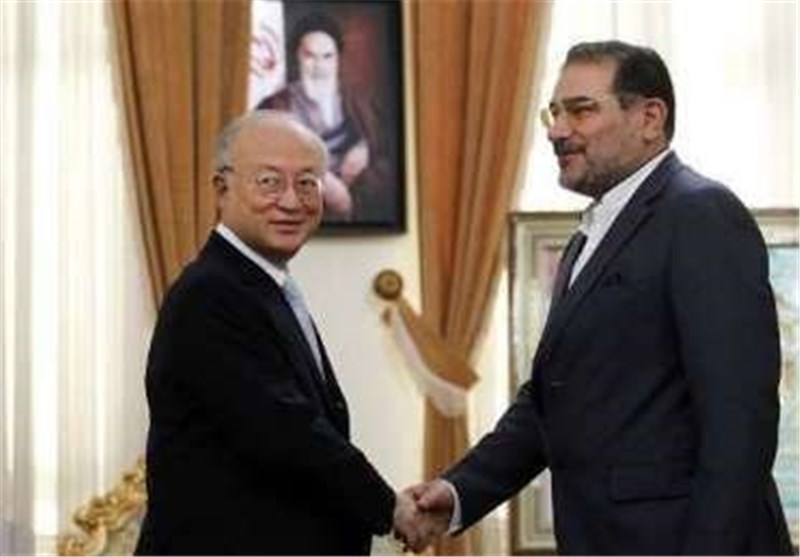 "Like before, Iran is ready to continue its close cooperation with the (International Atomic Energy) Agency to resolve the remaining issues," Shamkhani said.
He made the remarks in a meeting with the visiting IAEA Director General Yukiya Amano in Tehran.
Shamkhani went on to say that Iran's active interaction with international bodies and organizations will be mainly based on "conventional" and "legal" laws and procedures and the implementation of undertakings accepted by the country.
He also touched upon the ongoing negotiations between Tehran and world powers over the country's nuclear energy program, and stressed that any "sustainable" deal should satisfy both sides.
He at the same time underscored Iran's firm political resolve to achieve a just and balanced deal.
Also at the meeting, IAEA's Chief referred to the existing concerns and sensitivities on mutual cooperation as "understandable".
Amano further highlighted the necessity for continued cooperation between the two sides in a bid to achieve joint solutions to the existing obstacles, and offered certain proposals to speed up the cooperation process and resolve the remaining issues.
Having left the Austrian capital of Vienna, Amano arrived in Tehran on Wednesday night and is scheduled to meet with President Hassan Rouhani later today.
The visit is taking place in the context of the IAEA's continued engagement with Iran and the Group 5+1 (Russia, China, US, Britain, France, and Germany) as they work toward a Joint Comprehensive Plan of Action (JCPOA).
Iran and the sextet are in talks to hammer out a lasting agreement to end more than a decade of impasse over Tehran's civilian nuclear program.